Przepraszamy, niestety ta strona nie jest jeszcze dostępna w języku polskim.
Review Action 2020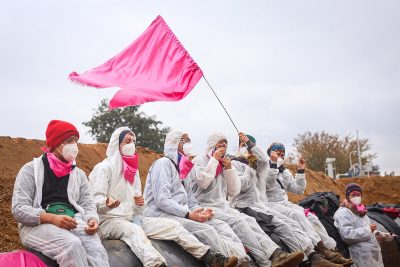 The international climate justice movement "Ende Gelaende" ("Here And No Further!") declared the end of the action weekend today. More than 3,000 activists blocked coal and gas infrastructure in Rhineland mining area, in western Germany. Ende Gelaende calls for an end to all fossil fuels and a fundamental system change. Continue reading …
---
Wet and crisp – this was Ende Gelände 2020 in the Rhineland
---
The Press Review to the Action
A collection of news (TV, newspapers) is available in our Press Review.
---
The collected infos about the action (and its preparation)
---
The Ende Gelände ticker (sorry, only in German)
---
Phew, that was quite a lot of work this year! Donate something if you can and like:
---
All news about the action 2020
---