News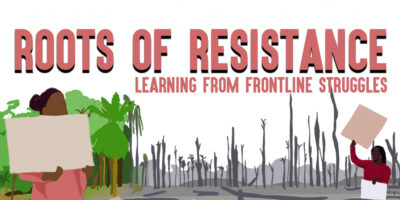 10. April 2022 For over 500 years, BIPoC have been fighting against (neo)colonialism, racism, and against the exploitation as well as destruction of their territories and livelihoods. In spite of historical oppression and present harassment of militarized states and paramilitary groups, BIPoC communities are still standing and decisively resisting destructive neocolonial extractivism. Continue reading ...
Disobedient against capitalism and for climate justice – worldwide!
Melting glaciers, rising sea levels, extinction of species, stronger and more frequent weather extremes – these are just some of the many consequences of climate change. Those who have contributed the least are particularly hard hit: people in the Global South are already losing their homes because of the climate crisis. The climate crisis is intensifying the existing injustices worldwide. With such prospects for the future, it should go without saying that the effects of climate change should be kept to a minimum. But the reality in politics looks different: The climate protection measures adopted there, are no more than window dressing.
Stop the terminal! 29 July to 2 August at Brunsbüttel
Fossil gas, like coal, is an accelerant of the climate crisis. New gas infrastructures (like the Brunsbüttel LNG-terminal) will lead to a lock-in that will cement the fossil fuel infrastructure in Germany for decades. Fracking gas is already causing water shortages in the Global South. We stand in solidarity with the anti-colonial struggles against this and initiate an immediate exit from gas with a disobedient mass action.
System Change not Climate Change!
Capitalism is breaking the limits of the planet. Like coal, gas and oil only serve the profit interests of the fossil fuel industry, destroying livelihoods especially in the Global South. We must get out of this destructive system that puts economic growth and profits above lives and livelihoods. We stand in the way of this here and now and fight for climate justice and a socio-ecologically just system change.
The climate crisis can only be fought anti-colonially
From 23 to 28 September 2020, we opposed the destruction in the Rhineland in a mass action of civil disobedience and blocked the coal infrastructure. Currently, there is a massive conversion to gas infrastructure in Germany and Europe. Therefore, we are no longer fighting only against coal, but this year we are blocking the expansion of gas infrastructure with our mass action.
All villages stay – worldwide!
Together we fight for climate justice! We will not allow the climate to heat up any further, islands to sink into the sea and more villages to be dredged for dirty brown coal.
All villages stay – in the Rhineland and worldwide. For an immediate exit from coal, gas and oil! Climate justice remains do-it-yourself!
More fossils? Not with us!Our promise is: we'll come back until the last digger stops!