Lo siento, esta página no existe en español
Camps on Rügen 2023
We are very happy that you are coming with Ende Gelände against the expansion of fossil energies and for climate justice to the climate camp and the action weekend on Rügen!
Around the action weekend there will be two camps on Rügen
1. Climate and Networking Camp Frankenthal from Wed, 20.9.

From Wednesday, 20.09.23 you can expect workshops, music, films and a space for networking, discussion and exchange. There will also be childcare and a Küfa (food for all)! On Friday, 22.09.23, we will then move together for the day of action to the Cliff Camp near Mukran. More information about the climate camp: klimacamp-auf-ruegen.de
2. Cliff-Camp from Friday, 22.9. (near Sassnitz/Mukran)
The Cliff-Camp opens from Friday, 22.09.23 near Sassnitz and ends on 24.09.23. From here starts Saturday the action day against LNG.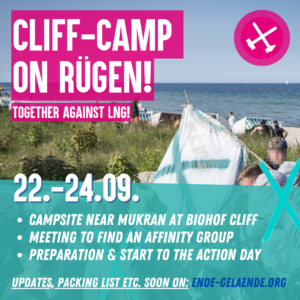 How to get there
Address: Kläranlage 1, Sassnitz
Coordinates: 54.50155, 13.60297
By train: The best connection is via the Mukran Alt bus station, Sassnitz. From there you walk about 20 minutes (1.5km) to the camp. Alternatively, you can also arrive via the Sassnitz ZOB bus station. From there you walk about 45 minutes (3km). Please note that there is a replacement rail service for the RE9 from Lietzow. You can see the timetable here (in German), the data on bahn.de is current.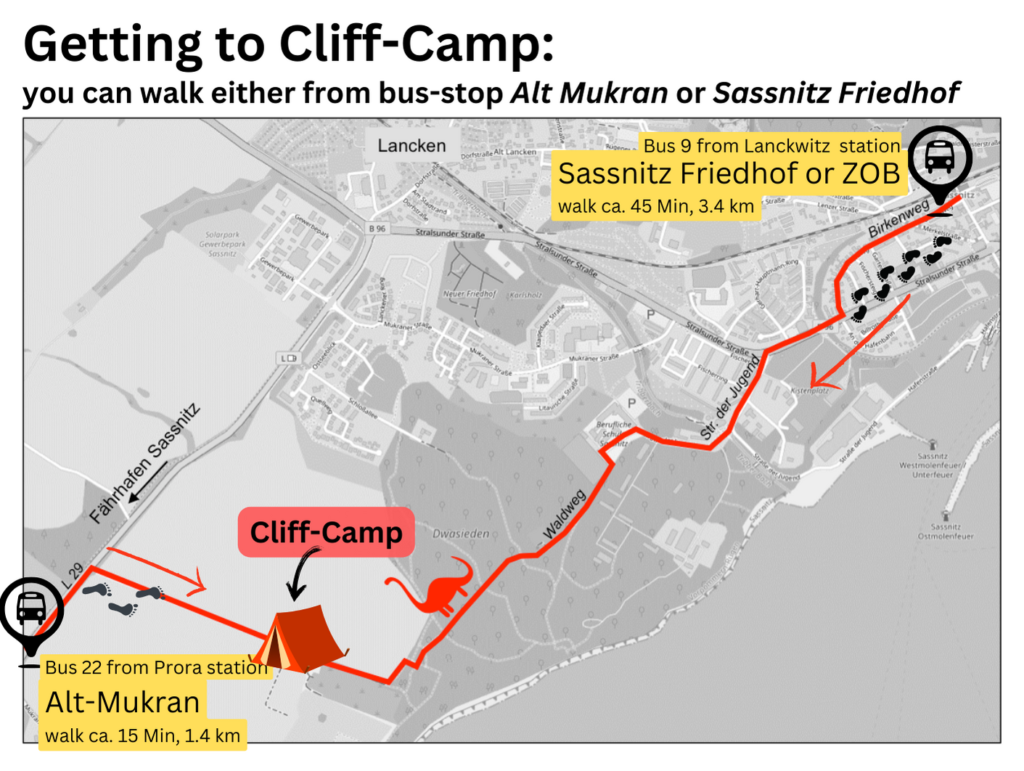 Shuttle: Despite the low capacity, we try to meet all needs. If you are dependent on a shuttle for mobility reasons, please write to us at klimacamp-auf-ruegen@proton.me.
From the climate camp in Frankenthal: There will be shuttle options on Friday. If you have a car that can be used for this, please contact the information point in Frankenthal. If you are traveling alone, please allow enough time. You need about 45 minutes walk to Samtens train station, 60 minutes drive and 20 minutes walk from Alt Mukran bus station to Cliff Camp.
Getting there with the Solibus from Berlin
Outward journey 20.09: 10 am at Oranienplatz
Return journey 24.09: 14 o'clock from the Cliffcamp and 15 o'clock from the climate camp on Rügen (Sold out)
recommended donation: 7-15€/trip
Tickets by mail to: solibustickets@systemli.org
Please indicate if for outward and/or return journey and give a contact for possible changes.
Food supply
Be prepared that there will be only basic supplies at the Cliff-Camp. The Küfa will cook two delicious meals a day, for the rest you will have to provide yourselves. So pack plenty of snacks and also some food for yourself! The nearest supermarket is in Lancken, about 30 minutes (2 km) walk from the camp.
Packing list
You can find it here.
Medics
Paramedics will be present at both camps and in action. In this context, please have a look at the Sani Consensus. However, please call 112 in case of an acute emergency – we try to bypass the ambulance service, but sometimes this is not possible.
Barriers:
Childcare: You can find it at the camp in Frankenthal
A barrier-low camp can only be provided at the camp in Frankenthal. There is a tent with beds, e-rollis can be loaded, there are concrete paths.
What constitutes a barrier for people can be very different – in doubt, needs can even contradict each other. Therefore, we want to refrain from just thinking in the blue how we can lower barriers and instead try to respond as specifically as possible to your wishes for a barrier-free camp. So if you want to come to the camp in Frankenthal and you need something specific to be able to participate well, please send us your wishes with the subject "barrier-free camp" to: awareness-ruegen23@systemli.org.
We are aware that writing such an email is not necessarily easy, but we would still encourage you to do so and will try to respond to the needs in the best possible way. At the camp and beyond in announced activities, there will be an awareness team that you can contact, and there is also be an awareness concept.
We will do our best, but we ask for your understanding if maybe not everything will be feasible and we have to write you that we can't respond to your request.