Sorry, this page does not exist in english
Mobi-Material
Mobilisierungsmaterial Massenaktion September 2020
Wir befinden uns in den Vorbereitungen für die Massenaktion im September 2020.
Das neue Mobilisierungsmaterial ist in Arbeit und wird, sobald es fertig ist, veröffentlicht.
Bleibt gesund!
Eure Mobi-AG
Mobimaterial Lausitz 2019 zum Download:
Plakate: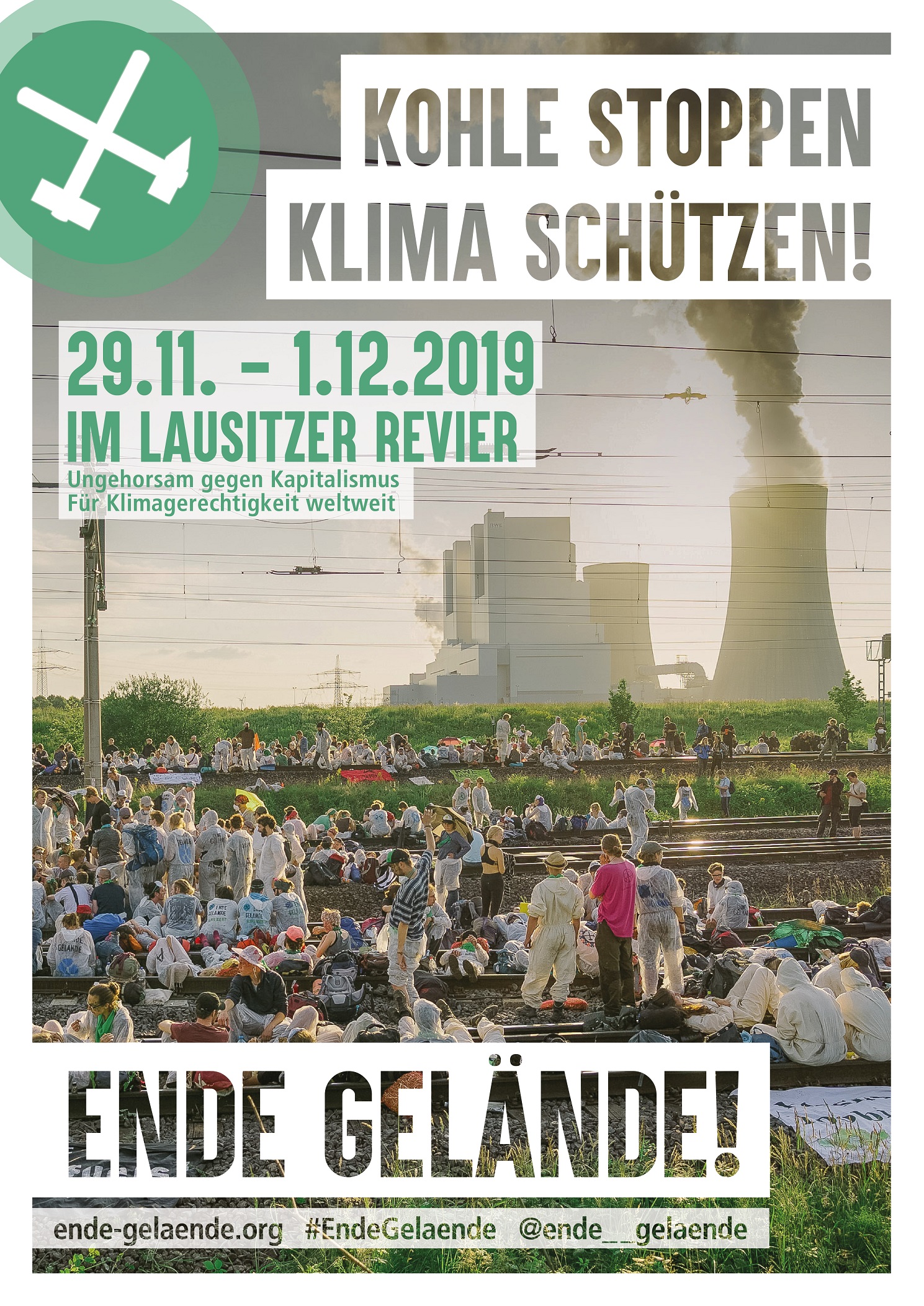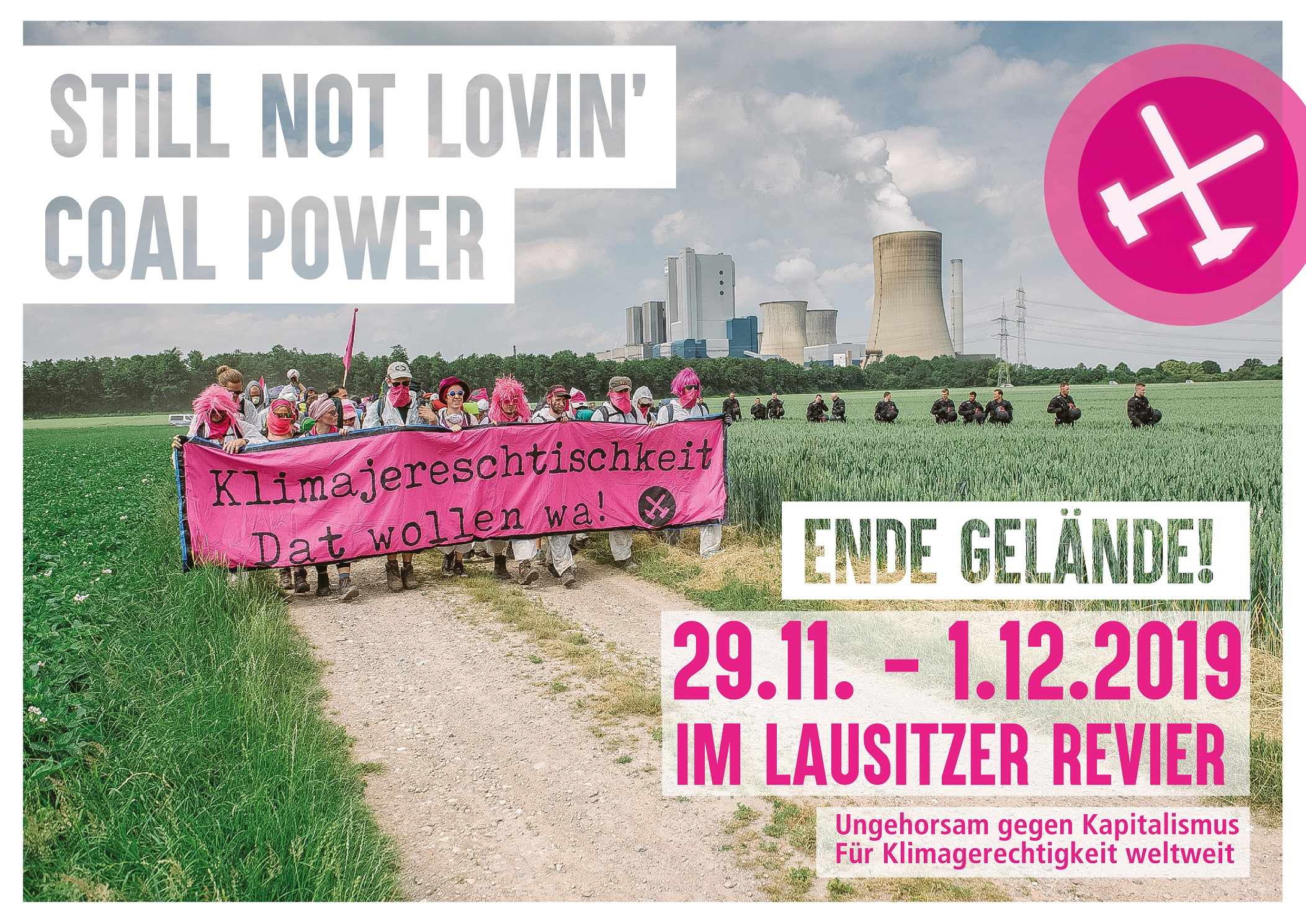 Flyer: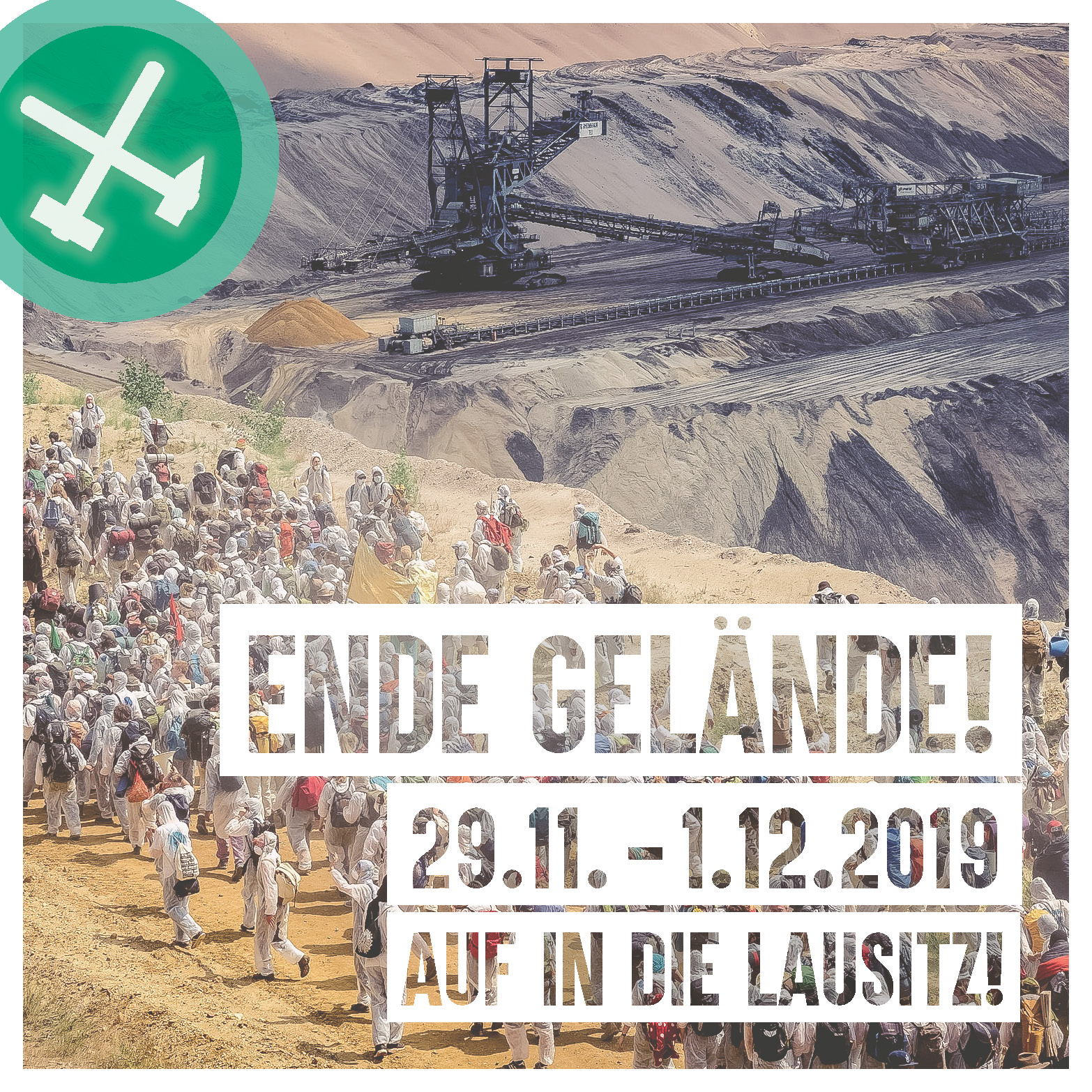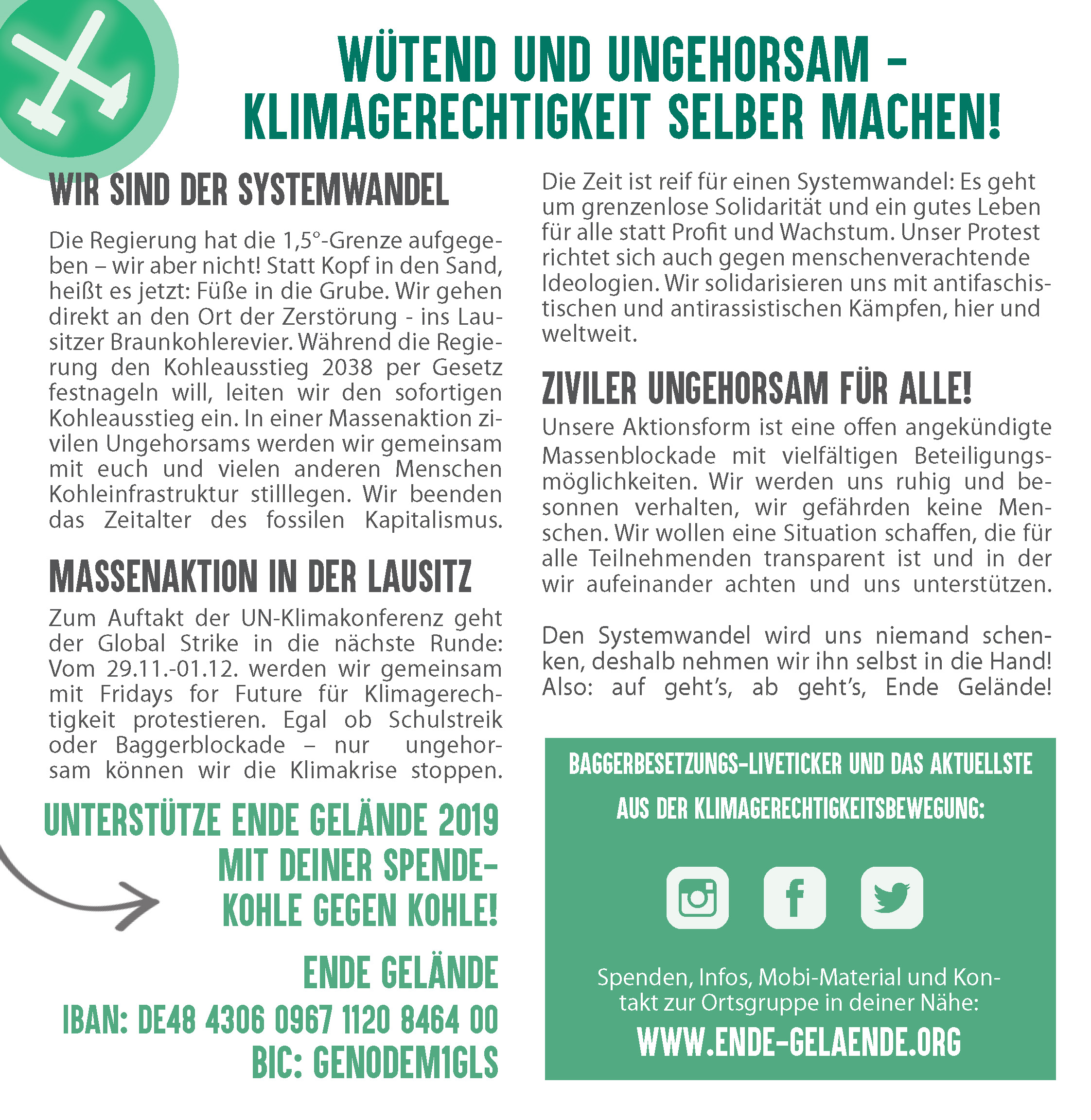 Sticker: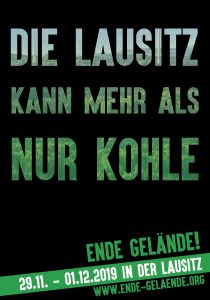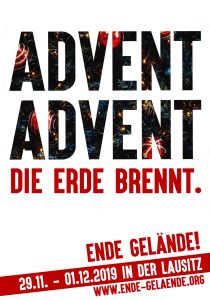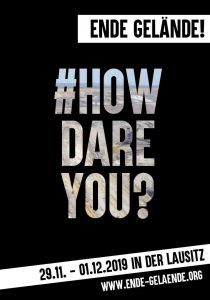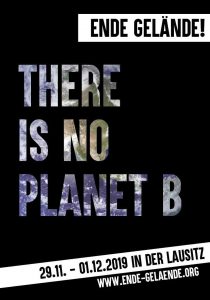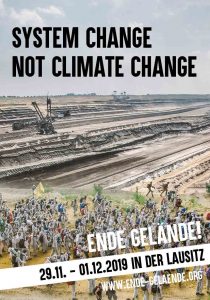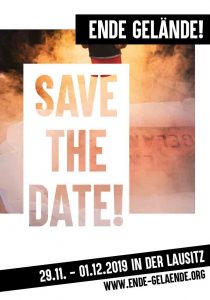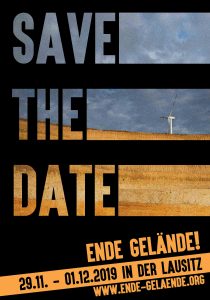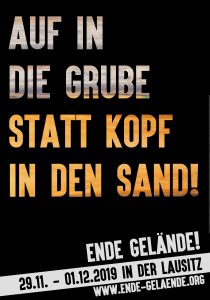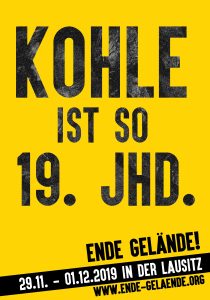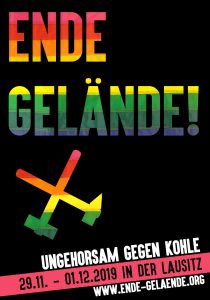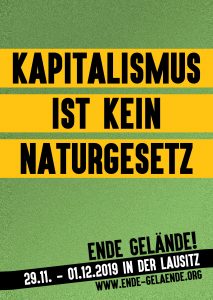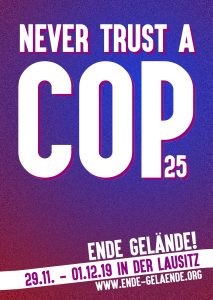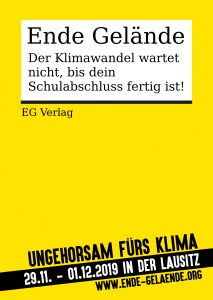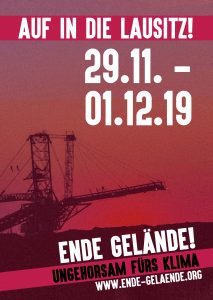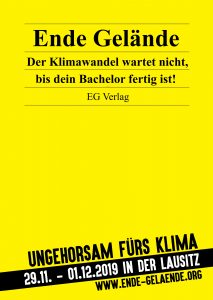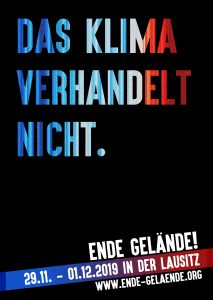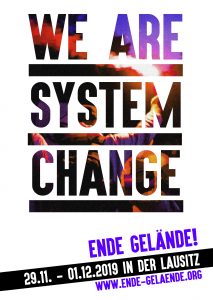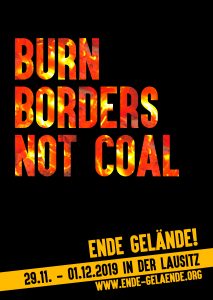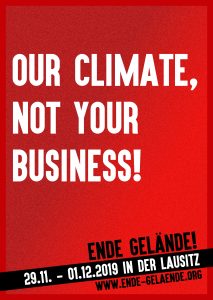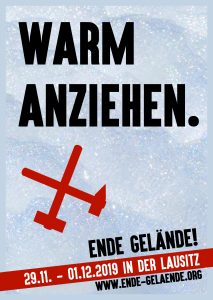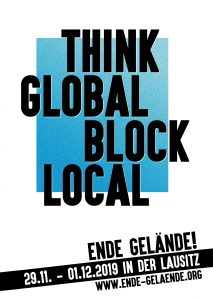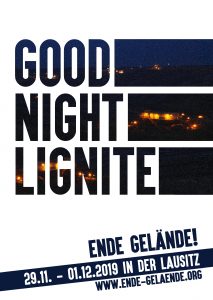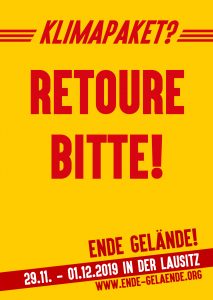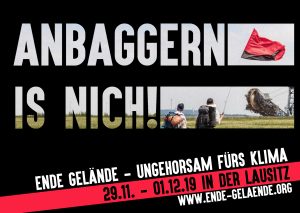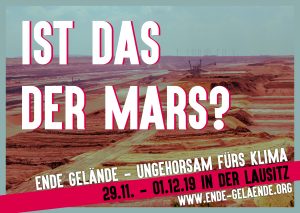 Mobimaterial für die Lausitzaktion ab sofort bestellbar!
---
---
Mobimaterial Massenak tion Rheinland 2019:
Ihr wollt Ende Gelände in eurer Stadt bekannter machen? Bei euch findet demnächst eine thematisch passende Veranstaltung statt? In eurem Lieblingscafé und im Bioladen sind die Wände so kahl? Ihr organisiert eine Ende-Gelände Infoveranstaltung? Hier findet ihr Plakate, Flyer, Aufkleber! Ihr könnt euch nun unter
mobimaterial@ende-gelaende.org
 (
PGP-Key
) melden um euch aktuelle Mobimaterial zuschicken zu lassen - kostenfrei mit der Bitte um Spende. Je schneller Ihr bestellt umso mehr Menschen erfahren von Ende Gelände - auf geht's, ab geht's! Die Plakate sind in DIN A1, A2 und A3 erhältlich. Falls ihr ein spezielles Format wünscht, schreibt uns das, sonst bekommt ihr eine bunte Mischung.
Wichtig
: Bitte gebt möglichst konkret an, welche Mengen ihr von was wünscht. Für den einen sind ein paar Sticker 20, beim nächsten 250 ;-)
Digitale Versionen
Save-the-date Flyer (Format DIN lang, 210x100 mm)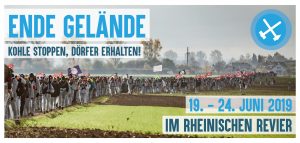 Falzflyer (Format DIN A4, 210x297 mm)
Ende Gelände Goes Europe Flyer (A4, 210x297 mm)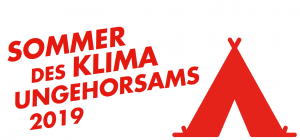 Plakate (Format DIN A2, 420x594 mm)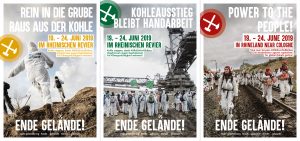 Sticker 04/2019 (Format DIN A7, 70x100 mm)

Flyer in einfacher Sprache [DIN A4]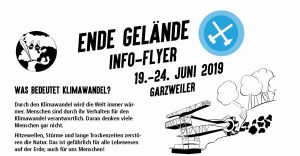 Stencils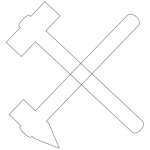 (zum Beispiel um weiße Anzüge zu verschönern ;) ) (e.g. to print on your pretty white suits for the action ;) )
Logos & Ende Gelände font (Click to download)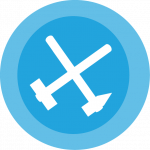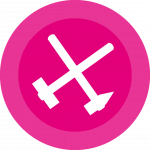 Font: Aku & Kamu_06_2019.otf
---
EG meets Europawahl
Von der teils unglaubwürdigen, teils erschreckenden Wahlwerbung der parlamentarischen Parteien hatten wir uns inspirieren lassen und einige Plakate entworfen. Mensch hätte sie am liebsten überkleben und sagen wollen: "Leute, aufwachen! Demokratie ist mehr als das!" Nun durfte mensch das rechtlich nicht. Wahlwerbung zu überkleben stellt eine Straftat dar und wird vom LKA als politisch motivierte Tat verfolgt. Wir raten deshalb davon ab. Für den privaten Gebrauch hatten wir nachfolgend einige Plakate entworfen, die sich kritisch mit dem Modus der parlamentarischen Demokratie sowie mit einzelnen Parteien und ihrer Einstellung zu den Themen Klimagerechtigkeit und Kohleausstieg auseinander setzen. Sie lassen sich Prima auf A3 Recyclingpapier drucken und auf passenden Flächen mit Sprühkleber oder Tapetenkleister kleben.