Expropriate RWE & Co
CALL FOR A MASS PROTEST ON AUGUST 27TH, 2022
Fridays for Future, Ende Gelände, Lützerath Lebt ("Lützerath lives") and RWE & Co enteignen ("Expropriate RWE & co") call together for a mass protest – be part of it and carry your anger, but also your hope, to the street together with us!
EXPROPRIATION INSTEAD OF CRISIS – BUILDING A CLIMATE-JUST FUTURE
The fight for Lützerath shows: A climate-just energy supply still has to be fought for.
Several million people have repeatedly marched for the Climate in recent years, appealing unsuccessfully to corporations and governments. The time for appeals is now over.
The decisions must be in the hands of society as a whole.
It is long past time for the coal phase-out and renewable energies. As a society, we want to decide together and democratically how and for what electricity is produced! Instead, these decisions are made by large corporations in order to make a profit.
The problem is ownership. The means of production – what we need to produce goods – do not belong to all of us, but to private companies. Production is not geared to our needs, but to increasing profits.
To change this, we must expropriate these power companies and socialize energy production!
While the global temperature is rising rapidly and the effects are increasing, especially in the Global South, social crises are intensifying around the world.
If the Corona pandemic has made one thing clear, it is that governments and the free market can offer absolutely no solutions to these crises. The overburdened health care system and the current hospital strikes for relief clearly demonstrate this.
No matter what the crisis, poverty-stricken and socially disadvantaged groups are always hit the hardest.
As social movements, we stand together in the streets and show that these crises must not be carried out on our backs! A climate-just society necessarily means that it not only respects planetary and climatic boundaries, but is also focused on social needs.
A livable environment cannot be played off against having unrestricted access to electricity, heated housing, and health care. They are basic needs and cannot be regulated as commodities by the market!
We must all now take the next step together.
As a climate justice movement, we have stood in front of forests and villages and defended them against the state and corporations.
And there will be many struggles this summer as well: In August we will block gas infrastructure with Ende Gelände, from September we will defend Lützerath against eviction and demolition and with Rheinmetall Entwaffnen we will paralyze the war industry.
In the middle of all this, this demo is our chance to stand together and show: These struggles all belong together!
Our struggles are united by the demand for expropriation.
To change the property relations of the whole society, we fight for a socialized future.
But with this protest it is not over. After the 27.8. it will continue straight on!
So let's defend Lützerath together after the protest. That's why we will make a lot of noise here in the city and draw attention to the fact that – although the topic of climate is on everyone's lips – politics will still pave the way for corporations to demolish villages for lignite-fired power generation in 2022.
Together we show: A more just world is possible. Let's build a climate-just future together.
Expropriation instead of crisis. That is what we are fighting for!
The call and background information are also available on the website of RWE & Co enteignen (in german).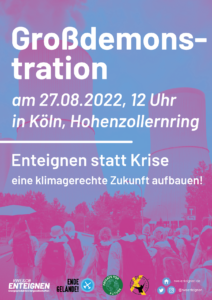 Mobilization Material
You can finally order posters and stickers now!
The posters are available in A3 and A2 formats. Additionally there are nine awesome sticker designs! Just send us the desired number and format as well as a postal address to info@rwe-enteignen.de and off you go!
All infos and the designs are also available here (in german).