Sorry, this page does not exist in english
5 Jahre Ende Gelände - Skillshare-Wochenende in Lützerath
Vom 28. bis zum 30.8. laden wir euch alle ein, in der Nähe vom Tagebau Garzweiler unser fünfjähriges Bestehen zu feiern, sich weiterzubilden und gleichzeitig Solidarität mit den Dörfern zeigen! Dieses Wochenende eignet sich auch bestens dafür, die Lokalitäten für unsere September-Aktion auszuchecken.
Die Basics:
ORT:
Lützerath, an der ehemaligen L277
Treffpunkt ist die dauerhaft besetzte Mahnwache, da kriegst du eine Wegbeschreibung zum Acker. Mahnwache: https://www.openstreetmap.org/node/7802206685
ANREISE:
Es gibt 2 Bahnhöfe in der Nähe:
Hochneukirch (7 km entfernt)
Erkelenz (9km entfernt)
Multi-Bus aus Erkelenz zur Mahnwache kann gebucht werden [ 02431 88-6688 ]
weitere Fragen zur Anreise per Mail an mahnwache_luetzerath@riseup.net, Telefon 015201339091 oder Telegram: https://t.me/MahnwacheL277
Programm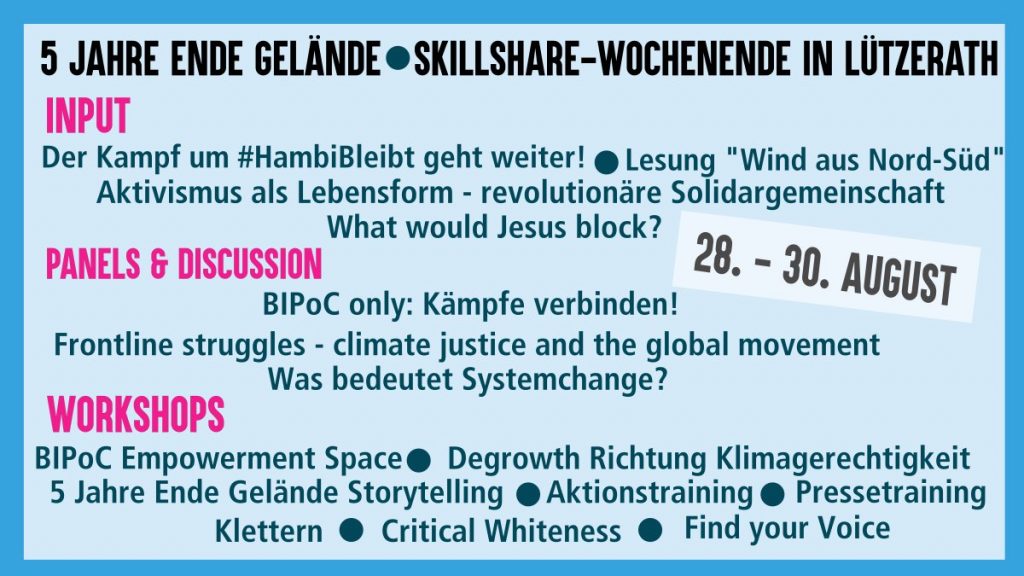 DONNERSTAG
Ganzer Tag: Aufbau der Infrastrukur + "Pimp my Acker"
FREITAG
ab 9 Uhr: Aufbau der Infrastruktur + "Pimp my Acker"
14 Uhr: Willkommensplenum
15-18 Uhr: Aktionstraining – Skills4Action
15-17 Uhr: Aktivismus als Lebensform – revolutionäre Solidargemeinschaften
15-18 Uhr: Ende Gelände Masken basteln + Siebdrucken + Banner malen
16-18 Uhr: Panel: Was bedeutet System Change?
16.30-18: Pressetraining
18-20 Uhr: Essen
18 Uhr (Mahnwache):  Klassik Konzert
20.00 Stream: (Mahnwache) Kongress – Zukunft für alle
20.30 -21.00 Uhr:  5 Jahre Ende Gelände – Storytelling
SAMSTAG
9.30 Uhr: Morgenplenum
10.00 Uhr: Frühstück
10.30-11.30 Uhr:  Schnupperklettern
10.30- 11-30 Uhr: Find Your Voice Workshop
10.30 Uhr:  Soli Bildaktion gegen Abschiebehaft – Paderborn
10.30-12.00 Uhr: Transpis malen + Masken basteln "Mundschutz statt Grenzschutz" + Siebdruck
11.30 – 13:00 Uhr (Mahnwache);  Frontline struggles – climate justice and the global movement
11-13 Workshop: Degrowth – wie soll eine klimagerechte Welt eigentlich aussehen?
13-15 Uhr Pause
15-16 Uhr Lesung aus dem Roman "Wind aus Nord-Süd" mit Dorothee Häußermann
15-16.30 Uhr Workshop: Critical Whiteness nur für weiße
15-16 Uhr Workshop: True Cost of Coal Wimmelbild
15-16.30 Uhr Workshop: Empowerment für BIPOC- BIPOC only
16-17 Uhr: What would Jesus Block? – Einführung in die christliche Befreiungstheologie
17.18.00 Uhr BIPOC only Panel: Kämpfe verbinden! Wie können die Gerechtigkeitsbewegungen enger zusammenkommen?
18-20 Uhr Abendessen
___
18.30 Abendplenum
19-20 Input: Warum der Kampf um #HambiBleibt weitergehen muss
18 Uhr (Mahnwache) Gottesdient von Kirchen Im Dorf Lassen
20-21.30 (Mahnwache): Panel zu Klimagerechtigkeit mit bekannten Personen der Klimagerechtigkeitsbewegung in Deutschland
ab 22 Uhr ( Mahnwache): Musik:  Rap & Singersongwriter
SONNTAG
ab 11.00 gemeinsame Demo: AlleDörferBleiben
Packliste
Snacks und Geschirr/Besteck
Auffüllbare Wasserflasche
Medikamente und Menstruationsbedarf (letzteres auch bei der Mahnwache eingeschränkt verfügbar)
Zelt, Isomatte, Schlafsack
EG NRW freut sich schon auf die bundesweite EG OG Vernetzung!
Der Stoppelacker in Lützerath is waiting for you!