Newsletter #32 – Hambach Forest: we continue fighting – powerful, diverse and determined!
It is quite unbelievable: forests and embankments are burning around us, harvests are withering, scientists are warning more urgently than ever, that the earth is threatened by a "hot age". Still RWE stubbornly insists that it is compulsory to continue clearing the Hambach forest now – and do not even want to wait until the negotiations in the "coal exit delay commission" have been concluded.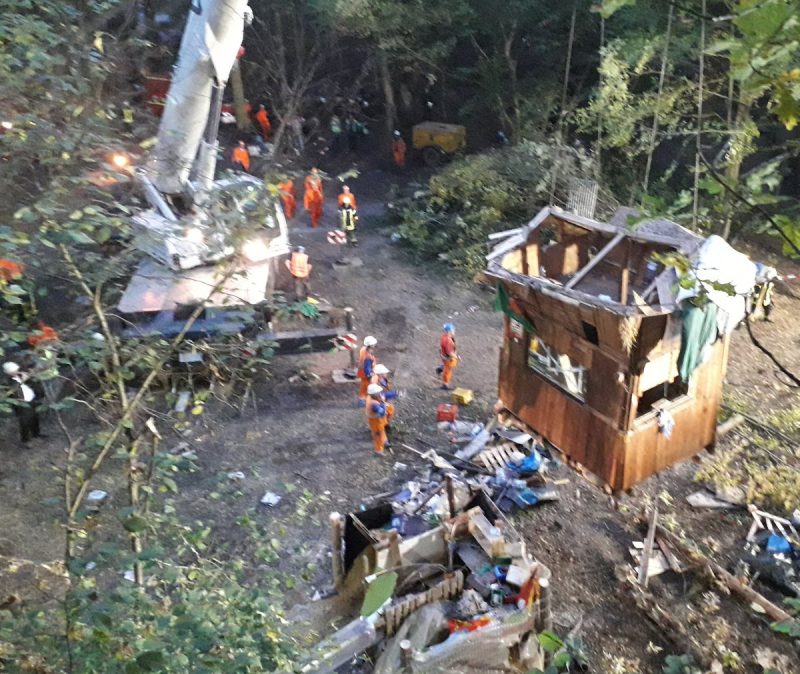 Foto: @Oaktown
The course of the electricity giant is backed up by the NRW federal government, that for weeks has been enabling massive and major police operations against the climate activists in the Hambach forest.
But the climate justice movement cannot be intimidated. We are powerful and diverse and we will continue  fighting together for the preservation of the Hambach forest! At the end of October, we will say with thousands of people joining "Ende Gelände": Hambi stays! – but even before that there are many opportunities to become active. Read more about it in this newsletter…
1. Defending Hambi – actions at a glance
2. Mobilizing for climate justice
3. Across borders – activities throughout Europe
4. Meeting of "Ende Gelände" in Hanover
5. Financial support is also very welcome!

1. Many opportunities, one aim: defend Hambi!
There is a lot going on in Hambach forest: before Ende Gelände mobilizes for the weekend in October (26 to 29 October), there are a lot of different possibilities to get involved. The activists in Hambach forest are preparing themselves to take action against the expected clearing of the forest squatting in the next days and weeks. They are looking forward to support, visits, solidarity actions and donations in kind or cash!
Who likes to hitch up one's knickers, can plant his-/her own trees this Sunday (16 September). The initiative "Rise up against coal" (Aufbäumen gegen Kohle) invites to the forest festival and declares September to be the reforestation season!
On the 16th – as well as on the three following Sundays – the popular forest walks with Michael Zobel and Eva Töller take place. Most recently, there were more than 1,100 young and old participants!
The campaign "Action Undergrowth" (Aktion Unterholz) calls for decentralised actions to prevent the clearing of the forest by means of civil disobedience. The easiest way to get the latest information is on Twitter via #AktionUnterholz and #hambibleibt.
On the 6th of October, NGOs and environmental associations call for a big demonstration at Hambach forest. Last week RWE had assured the Higher Administrative Court of Münster that the official clearing would not start before this date.
And from 25 to 29 of October, it is time for Ende Gelände! With a mass action of civil disobedience we lend weight to our demand for the preservation of the Hambach forest and the immediate coal exit. Activists from all over Europe will join us, when Ende Gelände says again this year: One Struggle – one Fight – Ende Gelände – Hambi stays!

2. Mobilizing for climate justice
In order to achieve climate justice and social change, we have to increase in number! Inform people in your environment about the current situation in Hambi, organize mobilizing events and busses to the action and do whatever else you enjoy doing!
a) Organize events in your city / your village
We have prepared a detailed Ende Gelände presentation and also summarized practical advice which will make it easier for you to organize an event. All you need is a room, some advertising material and the courage to take action yourself. If you still do not dare to stand in front yourself (yet), no problem: speakers from the alliance will come to you and can take over this part. Write us here.
Also get in touch with us if you are already planning an event, so that we can announce the date on our website.
b) Busses to the action – Mobilization for the extra train
A joint journey makes it a lot easier to get people excited about the action. If you want to organize a bus or already have organized one – please contact us via mail (PGP-key)! There will more about this on our homepage soon.
There will even be an extra train to the action! From Prague via Leipzig, Berlin and Hanover directly to the Rhineland. According to current plans, we will leave on Thursday, 25 of October and return on Sunday, 28 of October. Invite your friends, neighbors and relatives, mobilize  for the train and let us all travel together by rail to the Rhineland. If you want to help us with the mobilization or ticket sales, contact the extra train organization team.
c) Hot Mobilization Phase – order material now!
If you do not have mobilization material yet, it it about time to order it 😉 Order our great posters, flyers, stickers and distribute them in your region/city/village. Put up posters and stick them to all those places, which have always lacked a punchier statement.
You can order the material for free (donations are highly welcome). The flyer is already available in English and French for download and self-printing, smaller amounts of English flyers are also available in print.
3. Across border – activities throughout Europe
From 28 to 30 of August, activists of the Dutch action alliance "Code Rood " (Red Alert) have blocked the gas industry of the group NAM (Shell and Exxon Mobil) near Groningen together with local and international groups. About 700 activists participated and ensured that the blockade could be maintained in place for 50 hours. There was a lot of support from the local population and the media, hence the local government decided to legalise the action without further ado. A complete success!
After "Limity Jsme My"in Czechia, "Code Rood" was the second action which we support within the campaign "Ende Gelände goes Europe" this year.
Based on their own experiences and those of the Ende Gelände activists, the organizers succeeded, prior to the action as well as during it, in creating a truly international atmosphere. In particular, the collaboration and the joint mobilization across national borders has great potential.
We are grateful for this cooperation with our European friends. By involving alliances in their struggles and organization (and showing solidarity with others, e.g. the Hambi defenders), they contribute to spread a sense of unity within the European climate justice movement. This feeling of attachment is really valuable and necessary to affront the fossil industry and push forward a real system change.
4. Alliance meeting in Hanover (14 to 16 of September) //already done//
This weekend it is time again: We get together for the alliance meeting in Hanover to prepare the upcoming actions. Please register here, so that the Orga crew can plan child care, sleeping places and meals. We are looking forward to the weekend! You are very welcome to join in!

5. Your donation for civil disobedience
Also, for this year's mass campaign, we urgently need your financial support. Whether much or little – no matter if once or regularly. No matter if pit, camp or donation – become a part of Ende Gelände!
You can donate online or by bank transfer to this bank account:
Ende Gelände
IBAN: DE48 4306 0967 1120 8464 00
BIC: GENODEM1GLS
Kind regards,
Your newsletter editors
P.S.: It is alarming, inacceptable and concerns us all! The events in Chemnitz in the last week struck us deeply; right now we have to stand together even more as a left-wing, emancipatory movement!
Right-winged slogans in mass demonstrations, Hitler salutations, right-wing extremists chasing people through the streets and politicians and state officials who are struggling with trying to deny the events and understate them – in Chemnitz the social swing to the right has shown its ugliest sides.
Let us stand together against it, declare war on discrimination and racism and back up each other. In the Hambach Forest and everywhere else where injustice becomes visible – for a good life for everyone – regardless of origin, gender, religion or sexual orientation!