Arrival and packing list for System Change Camp
The location for the System Change Camp is set. This year's System Change Camp will take place in the Georgengarten in Hannover. How do I get to the System Change Camp and what else do I need to think about?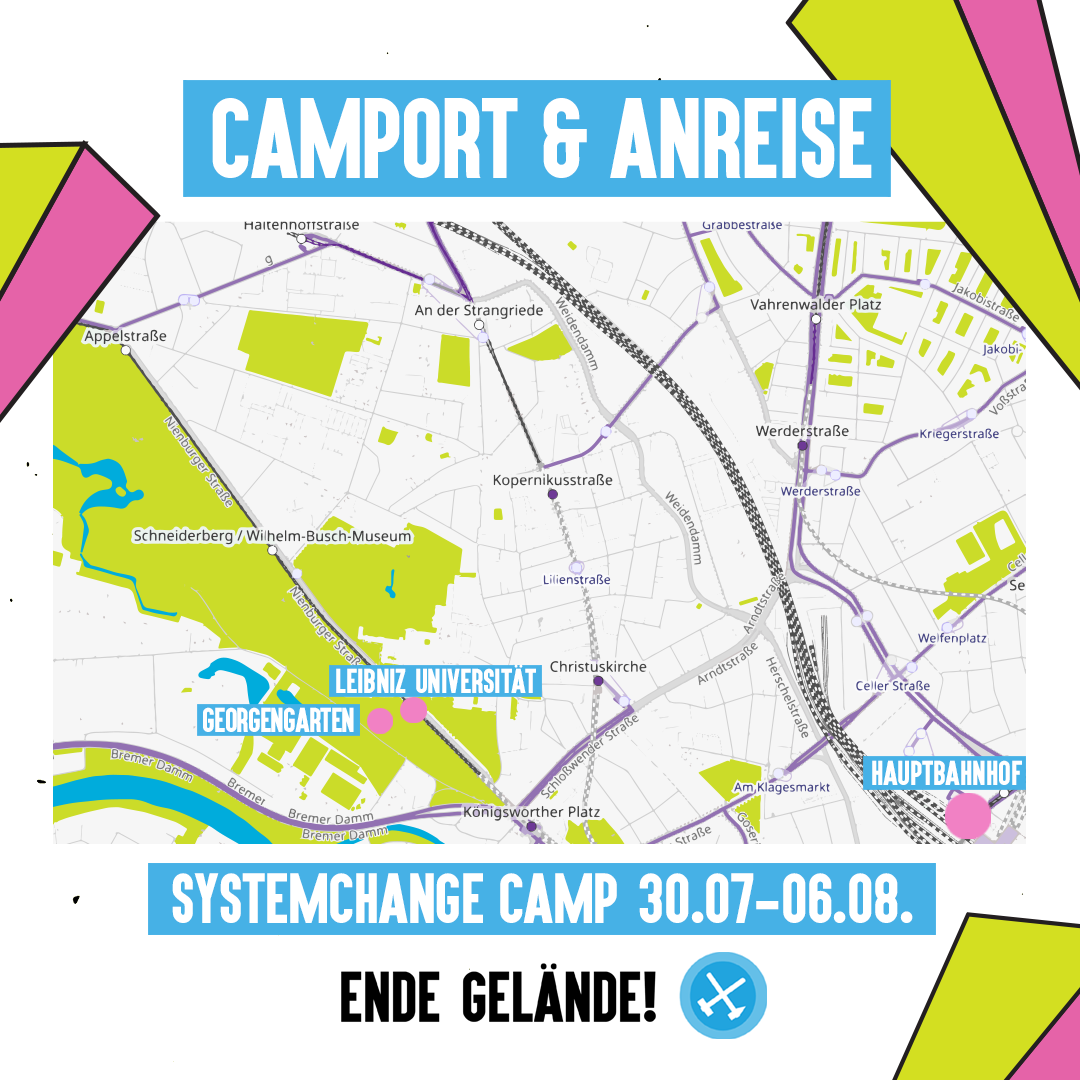 Arrival by public transport
If you travel by train to Hannover main station, go from there to the stop "Leibniz Universität". You can take the bus 500 to "Steintor" and change there to streetcar 4 or you can walk from the station for about 4 minutes through the beautiful city center of Hannover to "Kröpke" and take the U5 (direction Stöcken) to the stop "Leibniz Universität".
Arrival by bike
If you come by bike from the south or north, follow the Leine-Heide cycle path. Attention, the Dornröschenbrücke is closed, you can cross the river with the Westschnellweg.
If you are coming by bike from the west/NRW, we recommend a route along the Weser to Porta Westfalica and from here via Bad Nenndorf.
Arrival by car
If you arrive by car, "Georgengarten" can be the destination of your route planner. Inform yourself beforehand about parking possibilities and pay attention to information from the camp. Important information for all who arrive with a vehicle in which they want to spend the night: There will unfortunately be no space for campers, RVs or the like on the camp grounds this year. Please find your own parking space in the vicinity of the camp.
Packaging list
What do I need to take with me to the camp? –> feel free to check here, we have prepared a useful packing list for you".
Sleeping places for all
You still have a sleeping place free in your WG (shared apartment), apartment or house project? –> Then take a look here. We are still looking for sleeping places in and around Hanover to accommodate speakers and people who otherwise could not participate in the camp.
Georgengarten knowledge
The Georgengarten was named after a Hanoverian king (monarchy 👎). Around the corner are the Welfenschloss, which now houses the university, and the Herrenhäuser Gardens, a strictly symmetrical Baroque garden complex. An avenue runs through the Georgengarten, connecting the city center and the Herrenhäuser Gardens.