Ende Gelände goes #BlockIAA
5 – 10 September in Munich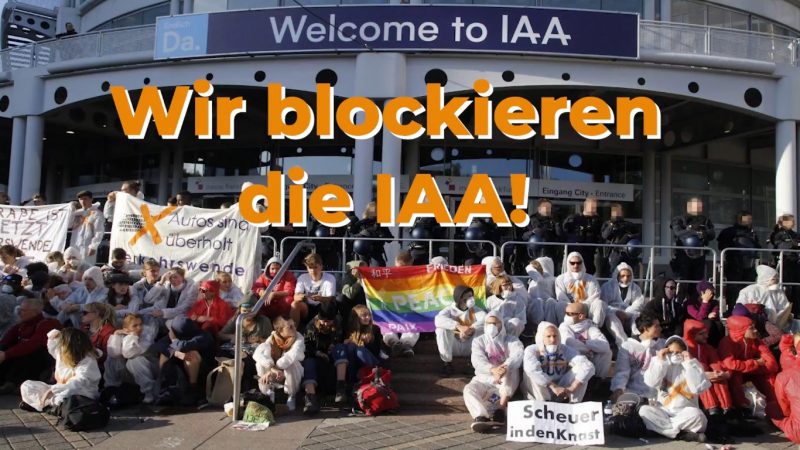 Full speed ahead into the climate crisis: The automotive industry is Germany's most profitable branch of industry and at the same time one of the biggest problem areas in climate policy!
At the International Automobil Ausstellung (IAA), the automotive industry regularly tries to present itself as green and sell its latest profitable inventions. As a climate justice movement, we want to use the attention focused on this trade fair to criticize the structures and attack the system behind them, without dumping the problem of mobility on individual shoulders.
Like no other industry, the car industry in Germany stands for the finite promise of infinite growth and Germany's unwillingness to commit unreservedly to the climate goals and a socio-ecological transformation.
Even a different drive technology does not change the extreme consumption of resources and space. Electric cars can never guarantee climate-friendly mobility for all and only shift and obscure the problems of the car from one region of the world to another – precisely to the places and people who are already much more affected by the consequences of the climate crisis today.

We need a massive expansion of public transport and at the same time a socialization of the car companies!
We need a fair, good mobility for all of us immediately, which connects and does not destroy our basis of life!
As Ende Gelände we call for participation in the #blockIAA – actions of Sand im Getriebe! On Friday and Saturday, September 8 and 9, we will disrupt the greenwashing party of the car industry with civil disobedience actions. On Sunday, September 10, as part of a large demonstration of a broad alliance, we will show that the auto industry cannot go through with its sales show unchallenged! The publicly announced actions will present an image of diversity, creativity and openness. Everyone, whether experienced in protest or not, can join in. Together we will put sand in the gearbox of the car industry!
You can be a part of this action in very different ways: whether blocking, cooking, demonstrating, dancing, holding vigils, transporting people and things, providing emotional or legal support and much more – no matter what is possible for you- join us, because YOU are in every role an important part of this resistance!
BlockIAA is our contribution to climate justice and fundamental system change. Come to Munich from September 5-10, 2023 at the Mobilitätswende Camp and become part of our movement!
More information can be found at:
https://sand-im-getriebe.mobi/
Instagram: @_sandimgetriebe_
Twitter: @Sand_imGetriebe