++ Ende Gelände in court ++ Prosecution of climate protest is a no-go for democracy ++ Trials against activists, journalists and MPs near Leipzig begin ++
"What is criminal is when energy companies like MIBRAG make profits with dirty lignite and burn up the planet for their profits. Ende Gelände opposes the climate crimes of the fossil corporations time and again. It is completely absurd that activists are therefore criminalized and put on trial. We will not be intimidated. On the contrary, the climate justice movement is getting bigger and stronger."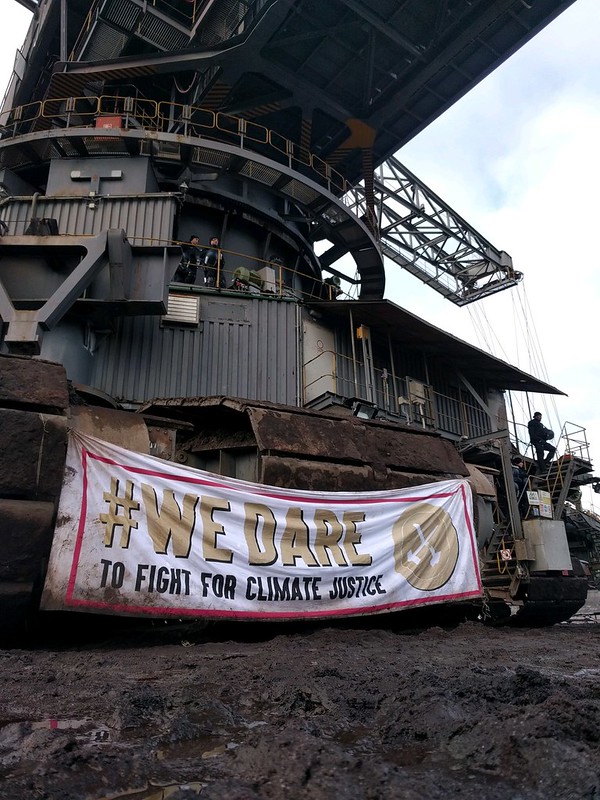 Leipzig, 12.10.2022, press release
Tomorrow, a series of criminal trials will begin in Borna near Leipzig for lignite protests by the Ende Gelände action alliance in November 2019. At the time, more than 1,000 activists entered the Vereinigtes Schleenhain open pit mine near Leipzig, peacefully blocked coal mining and then voluntarily left the mine. The Mitteldeutsche Braunkohlengesellschaft (MIBRAG) filed a criminal complaint for trespassing. But it was not only activists who were charged. The prosecution authorities are also accusing several journalists who reported on the action, as well as two members of the state parliament who were on site as parliamentary observers.
Sina Reisch, press spokesperson for Ende Gelände, commented:
"MIBRAG wants to intimidate us. I am only accused because of my press work for Ende Gelände, because my personal details were not recorded by the police during the action. We also know this form of repression from RWE against those who publicly do educational work. While coal companies continue to make billions in profits, those people who are working for a climate-friendly future are on trial. We are accused of trespassing, but what kind of trespass is that? The house is on fire and we're keeping the fossil fuel arsonists from continuing to pour oil on the fire."
Pumuckl, climate activist* from Ende Gelände, adds:
"What is criminal is when energy companies like MIBRAG make profits with dirty lignite and burn up the planet for their profits. Ende Gelände opposes the climate crimes of the fossil corporations time and again. It is completely absurd that activists are therefore criminalized and put on trial. We will not be intimidated. On the contrary, the climate justice movement is getting bigger and stronger."
Freedom of the press is one of the pillars of democracy. The work of media representatives and free reporting are therefore under the special protection of the Basic Law. In recent years, however, there has been an increase in the number of cases in which journalists have been unjustly prevented from doing their work by emergency forces. In Leipzig, journalists are now even to stand trial for trespassing, having investigated and reported from the site of the Ende Gelände protest action.
Tim Wagner, a journalist involved, comments:
"One of my photos from these protests at the open pit mine was chosen as Saxony's press photo of the year 2019. This shows how relevant the event was also in the coverage throughout the year and for this federal state. It is unacceptable that the constructed domestic peace of a huge lignite mine is advanced here to hinder and delegitimize journalistic work."
Marco Bras dos Santos, another journalist concerned, adds:
"A democratic society is unthinkable without freedom of the press. The fact that media professionals are being hit with lawsuits by energy companies is evidence of an anti-democratic understanding. I would like to see this practice become a thing of the past."
Members of parliament from various parties repeatedly accompany protest and blockade actions of the climate justice movement. They observe, control the rule of law of police actions, de-escalate and mediate. This form of parliamentary observation is considered an important guarantor of freedom of assembly. As parliamentary observers, two long-standing members of the Saxon state parliament accompanied the action of Ende Gelände at the time. In July 2021, the state parliament stripped both members of their immunity to clear the way for their prosecution.
Juliane Nagel and Marco Böhme, the affected members of the Saxon state parliament, explain:
"We accompanied an action of Ende Gelände as parliamentary observers in November 2019. The accompaniment of protests for social and climate justice is part of our self-image as left-wing MPs. We did not lead or organize the demonstration, but sympathize wholeheartedly with the cause of a rapid coal phase-out and international climate justice. We have no understanding for the fact that MIBRAG, as the private owner of the open pit mine, is taking us to court, but above all activists and representatives of the press. Because: This is not about private interests, but about the future of all of us!"
The criminal trials will take place in the Borna District Court near Leipzig, Leipziger Straße 67a, on the following dates:
Thursday, 13.10.2022 at 9 a.m. in room 118
Jule Nagel, Member of the Saxon Parliament for DIE LINKE and City Councilor in Leipzig
Friday, Oct. 28, 2022 at 9 a.m. in room 119
Sina Reisch, press spokesperson Ende Gelände
Tuesday, 01.11.2022 at 9 a.m. (room to be announced)
Marco Böhme, Member of the Saxon Parliament for DIE LINKE
Tuesday, 08.11.2022 at 9 a.m. (room to be announced)
Dirk Knofe, Photographer
Friday, 02.12.2022 at 9 a.m. (room to be announced)
Marco Bras dos Santos, journalist
Not yet scheduled:
Pumuckl, activist* Ende Gelände
Contact details
E-mail: presse@ende-gelaende.org
Sina Reisch: +49 152 313 277 84
Website
www.ende-gelaende.orgTwitter
Twitter
www.twitter.com/ende__gelaende
On the Ende Gelände flickr account you can find more photos from current and past actions, including photos from the blockade action on November 30, 2019 in the Leipzig lignite mining area: https://www.flickr.com/photos/133937251@N05/albums (Album: EG 2019 Lausitz & Leipzig)