Newsletter #04/22
Slowly but surely we have arrived in summer and the Ende Gelände camp and action are getting closer. To get you in the mood, we want to share this year's action consensus and call with you today. Colorful stickers and posters are also printed and waiting to be distributed by you.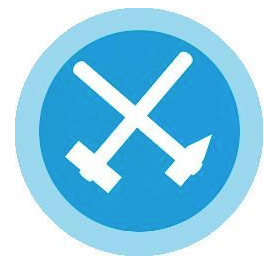 Even though we are all looking forward to our camp in Hamburg, we want to take a look at the time after: on August 27th there will be a demonstration of Fridays For Future, Ende Gelände and RWE & Co. "Expropriate instead of crisis – build a climate-friendly future" and also in Lützerath it is said that after the clearing season is before the clearing season: From autumn on we have to defend Lützerath again.
Enjoy reading!
1. Call for camp and mass action in and around Hamburg from 09.08. – 15.08.22
2. Action Consensus 2022
3. Mobilization Material
4. Invitation to the Action Conference on July 10 in Hamburg
5. Save The Dates: 27.8. in Cologne + from autumn in Lützerath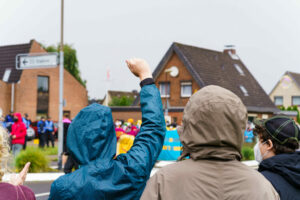 1. Call for camp and mass action in and around Hamburg from 09.08. – 15.08.22
Get out of all fossil energies now!
Prevent LNG terminals and end neocolonial exploitation!
Fossil Rollback? Enough is enough!
Since the start of the war in Ukraine, energy supply has been the big issue. But instead of pushing for an immediate gas phase-out, the German government is pushing billions in investments in liquefied natural gas (LNG) and fossil infrastructure of yesterday. This is a declaration of war on all those fighting for climate justice and all already affected by climate crises. Because to import LNG means to massively fuel the climate crisis and perpetuate immediate colonial violence. Fossil energies are energies of war. We are experiencing a massive fossil and nuclear rollback. Nuclear power and gas are being given a green label and even the hard-won, much too late coal phase-out is to be reversed when gas becomes scarce. We oppose this with all our might and we will prevent the expansion of infrastructure for dirty gas.
Gas phase-out instead of gas lock-in!
The German government concludes shady long-term supply contracts for particularly climate-damaging liquefied natural gas and ensures overnight that the coasts are plastered with LNG terminals and pipelines. With an outrageous acceleration-law, important environmental impact assesments are thrown overboard without batting an eye. But that gas is clean and has no alternative is nothing but a dirty lie. The methane in gas is an even more blatant climate killer than CO2 and an accelerant of the climate crisis. Even the Intergovernmental Panel on Climate Change says that we have less than three years left to turn the tide.
Now is the time to act, before facts are created with the expansion of gas infrastructure. Let's end this absurdity now!
Fossil lobby politics has resulted in (fracked) gas being purchasable until 2043. This gas is first and foremost to secure the profits of the energy-hungry industry in the huge chemical parks. While corporations like RWE, Uniper, Shell, DOW Chemical and Co. rake in fat profits, they nevertheless raise energy prices immeasurably. For more wealth and continued economic growth, corporations and countries in the Global North continue to use neocolonial exploitation. Whether from Russia, Colombia, Qatar, the U.S., Argentina, Senegal, or anywhere else, every cubic meter of gas we use means the climate catastrophe is worsening and leads to environmental destruction, exploitation, displacement, poisoned drinking water, and persecution of anyone in the Global South who resists.
We say: Get out of LNG immediately, out of gas and all fossil energies. Now it's definitely Ende Gelände!
Our answer: Resistance!
From August 09 to 15, 2022, we are setting up a large climate camp near Hamburg. We want to make the strength of the climate justice movement visible and further connect it with other social and international movements. We invite everyone who opposes capitalism, patriarchy, fascism, militarization, racism, ableism, anti-semitism and other forms of oppression, because a society in solidarity is something we must fight for together. At the camp and in the actions we want to make the connection of different struggles visible. Together and simultaneously with a multitude of activists on the frontlines and groups around the world, we will oppose the colonial gas crimes during our international days of action.
In and around Hamburg we will disrupt the fossil and neocolonial conditions with manifold actions of civil disobedience this summer. Besides the terminal locations, the port of Hamburg still stands for colonial exploitation trade, is a hub for arms trade, nuclear transports and a transhipment point for raw materials and blood coal from all over the world. We counter this with our visions of a society based on solidarity and alternative economic models such as degrowth. We will only have affordable and just energy-supply if it is renewable and if we decide about it ourselves on a global scale without corporations and without capitalism. We call for a radical transition towards renewable heat-sources. We will show that we have 100 billion better ideas than investing money in war, weapons, gas and more climate-damaging infrastructure.
Come with us to Hamburg! Auf geht's, ab geht's, Ende Gelände!
https://www.ende-gelaende.org/en/call-2022/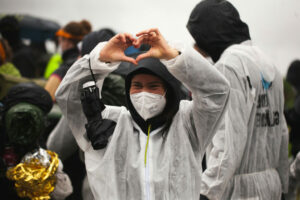 2. Action Consensus 2022
The consensus of action is a binding framework for our days of action. We invite all people who align themselves with this agreement to participate in the Ende Gelände actions.
Ende Gelände 2022
From August 9 to 15, we will engage in resistance against fossil gas and, the construction of LNG terminals and its inherent neocolonial structures with our camp and diverse actions in the greater Hamburg area.
Our forms of action
We say what we do and do what we say. Through mass civil disobedience, we stand up against infrastructure that fuels the climate crisis and enables neocolonial and capitalist exploitative structures. Our goal is to prevent the operation and construction of fossil fuel infrastructure. To do this, we protest and obstruct with our bodies.
Possible forms of action this year may include deliberately taking climate-damaging infrastructure out of operation, even beyond our presence. Through possibilities of obtaining information in the run-up to the action and at the camp itself, each person will make a conscious decision between the different forms of action.
We will not let ourselves be stopped by structural obstacles; we will flow through and around police or plant security barriers. We act thoughtfully and do not harm people. Our actions are not directed against workers, but against fossil capital and climate injustice.
Our diverse forms of protest and action reflect our values of diversity, creativity and openness. We strive to break down barriers to allow all people to participate.
Capacities & End of Action
We pay attention to one another. Everyone should decide for themselves how to take action. We are well prepared for the action, for example through action trainings or legal workshops. We support each other in the action and keep an eye on the capacities of structures and individuals. We decide on the duration of the action of blockades together and on site in close consultation with the support structures. After the action, we process the experience together and bear repercussions collectively.
Participation by (small) groups
We invite (small) groups to enrich our action days with their forms of action. Should groups express a wish for support from the alliance, it is for individual EG and support structures to decide, based on their capacities and in close exchange with the groups, whether and how they can support them. The same applies to groups that want to maintain blockades beyond the agreed time frame and action location with or without aids (e.g. lock-ons).
Self-understanding
We come from different social movements and political spectra and see ourselves as part of the climate justice movement. Therefore we oppose the social and ecological consequences of fossil capitalism and neocolonialism. We are in solidarity with all those who resist for a climate-just world.
In our camps and actions we envision the world we want to see. We make our decisions in a grassroots democratic way and by consensus; we try to reduce hierarchies as much as possible.
Explicitly antiracist and no room for discrimination
Our struggle for a climate justice world is antiracist, antiableist, queerfeminist, antifascist, antimilitarist and anticapitalist. We oppose all anti-Semitism and all forms of exploitation and oppression.
We are committed to being aware of and taking action against everyday and structural discrimination among ourselves and by society. We will provide space and solidarity to the people and groups among us who are affected by discrimination, for example safer spaces at our camp.
As a movement, we are actively engaged in a process of anti-racist learning, teaching, and reflection. As a part of this, we recognize structural racism and racist practices in the police. We call on white activists to reflect on their privileges when interacting with the police. If we decide to contact the police, we will carefully examine our motivation, our attitude and our goal beforehand, if necessary, together in the Deli-plenary.
Corona
To protect ourselves and others from contracting COVID-19, we adhere to the hygiene concept.
https://www.ende-gelaende.org/en/action-consensus-2022/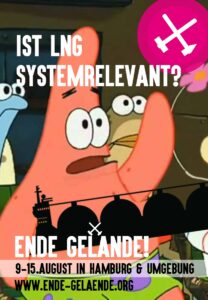 3. Mobilization Material
You want to make Ende Gelände more known in your city? Your favorite café has bare walls? Your city has fallen asleep and you want want to bring back some activism? For this there is finally again fresh new mobi material!
You can find all the designs to the action 2022 in Hamburg and surroundings here. You can print them out yourself using the digital versions: https://www.ende-gelaende.org/en/ende-gelaende-mobilization-material-2022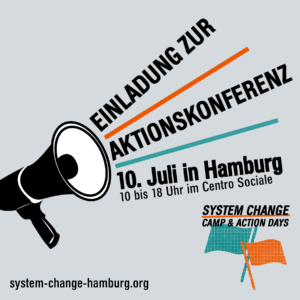 4. Invitation to the Action Conference on July 10 in Hamburg for the System Change Camp and Action Days
In August the System Change Camp and Action Days will take place in Hamburg. Initiated by Ende Gelände, many groups are planning a big gathering of social movements in Hamburg from August 9-15. Together we will create a place that brings together the struggles for global social justice. And with you it will be even bigger!
To plan the camp and diverse actions, we invite you to the Action Conference on July 10 from 10am to 6pm at Centro Sociale in Hamburg.
After 2 years of pandemic and isolation we will take the space for exchange, networking and common actions. For this we will come together at the camp from August 9 to 15 in Hamburg. We will unite our struggles so that we not only think them together, but also lead them together. Because we are united by the unalterable knowledge that the Good Life only exists for everyone or not at all.
Come to the Action Conference, get involved in the planning as a group or individually. Register for the conference by July 5 by sending an email to aktionskonferenz2022@ende-gelaende.org.
Please let us know how many people you plan to attend with and if you:
need sleepingplaces
need childcare
want to participate in a language other than German or English
want to participate in the action conference via online stream (we will send you the access data)
Please come tested and if possible vaccinated and bring enough masks (the conference will take place indoors).
You have general questions about the camp or networking? Then write to: vernetzung22@ende-gelaende.org, Infos: https://system-change-hamburg.org
We look forward to getting together and planning the System Change Camp and Days of Action.
System Change Now!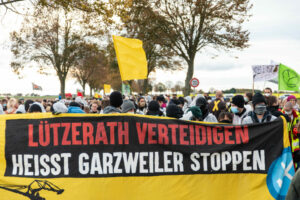 5. Save The Dates: 27.8. in Cologne + from autumn in Lützerath
Large-scale demonstration of Fridays For Future, Ende Gelände and RWE & Co enteignen "Expropriate instead of crisis – build a climate fair future" on 27.08. in Cologne.
The struggle for Lützerath shows: a climate-just energy supply still has to be fought for.
In recent years, millions of people have repeatedly flooded the streets to spread awareness about the climate crisis. Sadly, their appeals to corporations and governments where left in vain. Now, the time for pleas is over. Decisions must be agreed upon by society as a whole. A phase-out of coal and deployment of renewable energies is long overdue. As a society, we want to collectively and democratically decide how and for what electricity is produced! However, these decisions are taken from us and given to large corporations which only strive for profit. The problem is property relations. The means of production – what we need to produce goods – do not belong to all of us but to private companies. Production is not geared to our needs but to increase profits. To change this, we must expropriate electricity corporations and socialize energy production!
While the global climate crisis and its effects are unfolding rapidly, especially in the Global South, social struggles are mounting world wide. If one thing can be taken from the corona virus pandemic, it is that governments and the free market offer absolutely no solutions to these crises. The overburdened health care system and the current hospital strikes for relief are only one illustration of this. No matter what emergency we face, poverty-afflicted and socially marginalized groups are always hit the hardest.
As social movements, we take the streets together to show that these crises must not be carried out on our backs! A climate-just society not only respects planetary and climatic boundaries but is also concerned with social needs. A livable environment cannot be weighed against unrestricted access to electricity, heated housing, and health care. These are fundamental human needs and, therefore, not fit to be regulated as commodities through the market! Collectively, we take the next step. As a climate justice movement, we have stood in front of forests and villages and defended them against the state and corporations. These struggles are one! Our endeavours are united by the demand for expropriation. To change society's property relations, we fight for a socialized future.
Together we show: A more fair world is possible. Let's build a climate-just future together. Expropriation instead of crisis. That is what we are fighting for!
More info coming soon: https://rwe-enteignen.de/
Support: X thousand for Lützerath/ X Tausend für Lützerath
We stand in the way of destruction – you too?
Currently, CDU and Greens in NRW are negotiating a new government – and their agreements look alarming. In their exploratory paper, both parties settled on a coal phase-out in 2030 and on saving five villages. However, they do not envisage committing to a binding residual coal budget in line with the 1.5-degree target or saving the threatened village Lützerath. Hence, they plan to continue with their completely irresponsible climate policy and are most likely planning an evacuation of Lützerath in autumn or winter.
Should the state government decide to clear and demolish Lützerath, we will be there to stand in their way of destruction. Are you with us? If yes, sign the declaration of intent in order for the parties to see what they will be facing in Lützerath – and so that we become X-thousands who protect Lützerath and the climate!
Sign now: https://x-tausend-luetzerath.de/