Newsletter #52 – Clean gas is a filthy lie!
Today, we have prepared a special treat for you: The date for the summer campaign in Northern Germany has been set! Here you can find out everything about the campaign period, why we are blocking gas and why the focus against gas goes hand in hand with our work against coal.
There is also information on the campaign "Solidarity done differently!" and an exciting series of events on "Climate and the Right".

1. Ende Gelände Blockade Campaign in Brunsbüttel 29.07.- 02.08.2021
2. Gas: Fossil colonialism
3. Your cash against gas
4. Solidarity done differently!
5. Climate and the Right. How dare you!?
1. Ende Gelände Blockade Campaign in Brunsbüttel 29.07.- 02.08.2021
The story of the climate crisis is a story of colonialism, of displacement and persecution by states and corporations of the Global North, but also of resistance against these. This story continues today on our doorstep – in Brunsbüttel (Northern Germany) the gas industry is planning a terminal for the import of fracked gas from all over the world. This brings the benefits of cheap gas to Europe, while outsourcing the adverse social and ecological impacts to the Global South.
The newly built gas infrastructure will not only bind us to fossil energy for decades, it is also a symptom of how politicians and the broader economy continue to deny the truth, selling us the idea that gas is a "clean interim technology". We aren't buying it!
That's why we are going to physically block the construction of the fracking gas terminal in Brunsbüttel from the 29th of July until the 2nd of August and take part in the global struggle to end fossil gas immediately!
We are shifting focus this year from coal to gas, however we will continue to stand in solidarity with people in the coal extraction areas, fight for the preservation of all villages and the immediate withdrawal of coal. All fossil fuels need to stay in the ground!
The campaign is part of a global action day against fossil gas. We're joining the resistance of indigenous groups and people in the Global South, who have been fighting the climate crisis and the destruction of their livelihoods for a long time. Fossil gas is also being extracted in Germany and Europe – with the corresponding consequences for people and nature. We also stand in solidarity with the affected people and their resistance.
Whether it's fossil gas, coal or nuclear energy, capitalism is going beyond the limitations of our planet. We have to exit this destructive system that prioritises profits and growth over our livelihoods. In the summer of 2021 in Brunsbüttel we will stand against this system and fight for a fundamental change towards a just world.
We say: Ende Gelände! Game over! Worldwide disobedience in the name of climate justice!
If you are interested, you can find our new video here.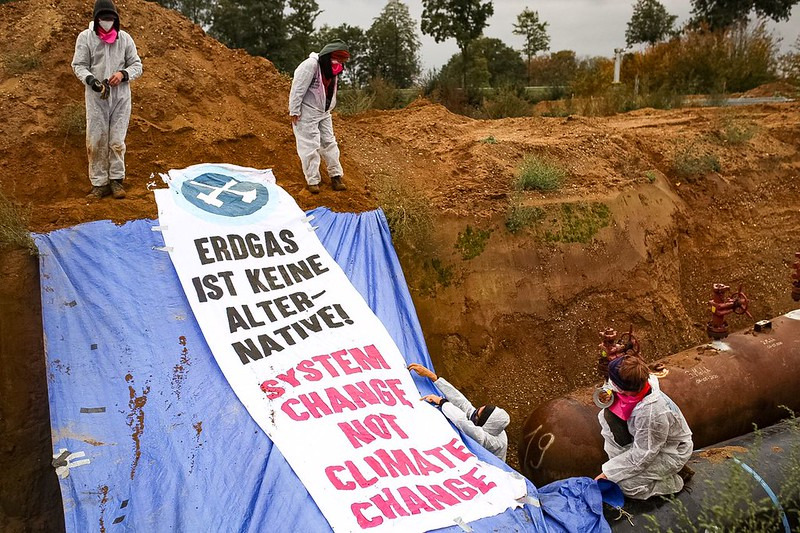 2. Gas = Fossil colonialism
It is preposterous that Germany, the EU and other countries of the Global North advocate and commit to climate agreements and energy transitions on paper, while simultaneously promoting multinational oil and gas corporations that undermine these same commitments with their activities in the rest of the world. Gas is a prime example of this modern colonialism – EU corporations such as Wintershall (DE), Total (FR), Shell (NL), BP (UK), Eni (IT), Equinor (NW) are among the world's biggest destroyers of land, fracking in much of the Global South, having been banned from doing so in their home countries.
The practices of these corporations have devastating consequences for the land, water, livelihoods and health of local communities and lead to the violation of human rights and the displacement of indigenous communities. In addition, these european companies continue to propel the climate crisis forward.
Argentina's Vaca Muerta Shale Basin alone will consume nearly 15% of the total global carbon budget. The Okavango Delta Basin – soon to be exploited for oil and gas by Canadian company ReconAfrica – will consume a similar amount. The climate crisis is an inequitable global crisis. We will only be able to fight for justice through international resistance against these colonial structures!
Sources and further infos:
Argentina: Fracking projects contradict the government`s agenda (Heinrich Böll Stiftung)
3. Your cash against gas
You think gas is just as unnecessary as coal? We do too! And sometimes we need some money to fund our campaigns. If you agree that all raw fossil materials should be left in the ground, please consider supporting us financially. As always, we will be happy to see you at the campaigns and the camp and are grateful for any donation you are able to make. This will help us fund camp infrastructure, equipment and to establish a fantastic hygiene concept. Whether it's 5 bucks or 500, any amount will help us!
You can go to our donations website or just transfer money directly to our donations account:
Recipient: Ende Gelände
IBAN: DE48 4306 0967 1120 8464 00
BIC: GENODEM1GLS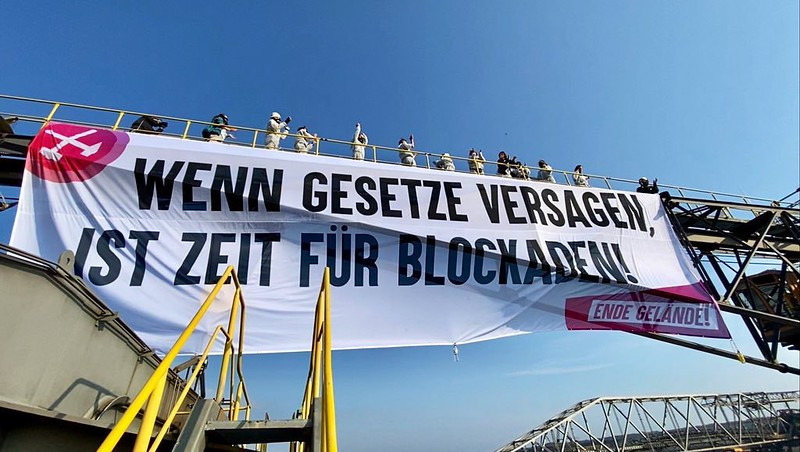 4. Solidarity done differently
The German federal government is announcing (again!), that it is more important to protect the pharmaceutical industry's profits than to save human lives by waving patents.In response, 17 organisations and movements came together on the 18th of May and started the campaign "Solidarisch geht anders – raus aus der Krise geht's, nicht zurück" (Solidarity done differently – Out of the crisis, not back in!). On the 8th of June we'll take it to the streets on our first campaign day for solidarity-oriented health.
The campaign demands a just reconstruction of society, fighting climate crisis, social injustice as well as marginalisation. The political goals and claims are organised into five focus topics: solidarity-oriented health, material security, care work and social infrastructure, equal rights and climate justice.
Do you want to find out more? Then join us on the 15th of May at our open digital campaign meeting and be sure to bring your group or organisation along! The meeting is open for anybody who wants to join or take part on the ground during the campaign or just get some more information.
For more information and to register, please write us an e-mail at mitmachen@solidarischgehtanders.org
5. Climate and the Right. How dare you!?
Online events on right-wing ecology, climate justice, and anti-fascism. From the 18th of May to the 13th of July, every Tuesday at 7:30pm.
Some events will be held in English, others in German.
This event series asks to which extent the climate movement carries right-wing and regressive ideologies or reproduces them. Nine online events examine the history of right-wing ecology, right-wing positions on the climate crisis, and the discourse around "overpopulation" as the supposed cause of the climate crisis. We discuss right-wing violence against climate activists and right-wing interpretations of the COVID-19 crisis. We take a look ahead and discuss where the climate justice movement needs to differentiate and position itself more clearly and become more active.
It will start on the 18th of May with the title "Right, that's just the others?!" with Hanna Poddig (Language: German). Following up will be Hilary Moore presenting "Between denial and 'eco-fascism' – the far right and climate change" on the 25th of May (Language: English) .
All info and links for participation can be found here.
Thank you for your attention!
See you soon,
the Newsletter-Team