Rhineland 2017: we are creating a climate of justice – colourful, noisy and queer
Climate justice is also a question of feminism. When we block the lignite infrastructure in the Rhineland with thousands of activists in August, we will not only take the phasing out of fossil fuels into our own hands: We will also construct in our camps and in our actions a solidarity community beyond sexism, binary gender identity and heteronormativity.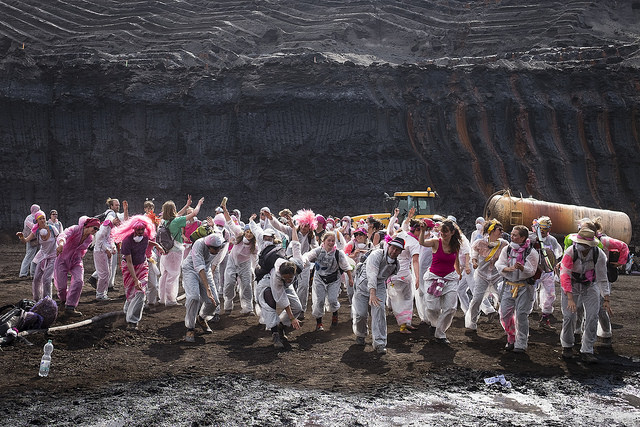 Climate change: a problem of justice
[Read the call-out for a queerfeminist expression at Ende Gelände]
Climate change shows what the exploitation of human and natural resources for the sole purpose of profit maximisation is leading to. We want to campaign for a future that is better and more just – and therefore we have to stop climate change that exacerbates existing inequities. Globally, 70% of people living in poverty1 are women*.2 They suffer most from droughts, floods, soil salination and other consequences of climate change. Natural catastrophes and situations of flight and migration also affect persons most who are not Cis3-men* because they have reduced access to information, are more subject to hunger and assaults and in general have to deal with the burden of care in emergencies. Together with racism, social origin and ableism4 it is gender that influences the chances of humans to deal with climate change.
The people responsible for climate change live predominantly in the Global North. A minority profits from the wealth which is based on exploitation and destruction – and through their consumption and their life style, they increase global warming even more. We want to overcome these conditions. We want to go where climate change and injustice is produced – and we want to signal our opposition with colourful, noisy and queer protest.
Overcome capitalism and patriarchy
We want to contribute to enabling all humans to live a good life, wherever they are. We want to abolish an economic system that structurally exploits the reproductive work of women* and nature and outsources reproductive care work5 as well as environmental and climate damage. We want to overcome patriarchal property structures and role allocation which ensure that predominately rich Cis-men* live at the expense of all others. We want to deconstruct myths of masculinity so that profit maximisation and flying-round-the world are disapproved of as an imperial way of life6 and reproductive and emotional care work is recognised as basis of life. We want to create forms of community life that transcend core families with a single provider. And we want to redistribute: property as well as tasks within a society.
This summer people will come together in Austria, the Netherlands, Czechia, Belgium, France and many other places to demonstrate alternative forms of living together. We will meet in the Camps in the Rhineland from 19 to 29 August.
Careful with each other
Feminist struggles serve as inspiration for us. Together, we want to fill the hard-won positions with life. In the camps we would like to see a conscious and supportive distribution of care work. Cis-men* are urged to reflect their behaviour in discussions as well as when washing dishes. We want to create an atmosphere which encourages especially FLTI*-people to engage in discussions and help with setting up infrastructure and technology. An awareness team will give support so that bad feelings and harassment do not arise or are at least brought up as problems. Sexist, homo-and transphobe, racist or anti-Semitic behaviour will not be tolerated. FLTI*-persons, women of colour and LGBTQIA activists will find safer spaces and get opportunities for empowerment through skill sharing, mutual understanding and reflections.
Our protest manifests solidarity with all those whose livelihood is threatened by climate change and all those who put up resistance and are imprisoned or sued because the state acts as a defender of corporate interests. And we manifest solidarity amongst ourselves in all activities – from knowledge transfer, infrastructure work, care work in and after activities to occupations and blockages.
Dangerous together
When we block the coal infrastructure during the days of action from August 24 to 29, we want this to be an opportunity for emancipation for everyone. We will offer action trainings for FLTI*s at the camps. The "Ende Gelände!" mass action will provide the opportunity to form an explicitly queer-feminist formation moving towards the pit or the railways. Creative actions of small groups are also possible. We will see various colourful, noisy and queer forms of protests open for everyone in which we all feel comfortable.
Come to the Rhineland – let us together create a climate of justice!
[Read the call-out for a queerfeminist expression at Ende Gelände]