Désolé, cette page n'existe pas en français
Action on Rügen 2023
From 22 – 24.09.23 we protest together against the planned LNG terminal on Rügen. In order to be well prepared, on this page you get an overview of the two camps on Rügen and the day of action on Saturday, 23.09.23.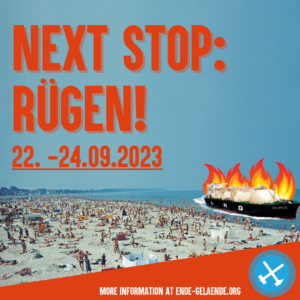 Reason for this action
Our call for action explains why we decided on this action and if you would like to find out a little more about fossil gas and LNG, we recommend our FAQ.
Camp and infrastructure
There will be two camps. The action day starts from the Cliff-Camp (54.5015531, 13.6029789). This year, both the cliff-camp and the action day are based more than usual on the participants' self-organization and personal responsibility. We would like to take joint responsibility for a good action and therefore call on you to be well prepared. We also need a lot of helping hands, so feel free to add your name to the support tool if you can support us during the day of action and the camps.
In order to get all the infrastructure, we actually need donations. If you have some or know someone who has enough money, here is the link!
Action preparation
We put together a packing list for you.
An action plenum will take place at both camps on Friday evening at 7:00 p.m. There is also a last-minute information meeting at Cliff-Camp on Saturday morning.
Please take part in an action training to prepare. These will take place in a shortened form on Friday at the Cliff-Camp (more detailed information is available on site). For better preparation, we recommend taking part in one in Berlin, Jena, Rostock or Leipzig. You can find all dates here.
Don't worry if you're traveling alone! There will be the opportunity to get together with other people who are also here without significant others. There will also be an affinity group meeting. Please ask at the information point when you arrive.
Anti-LNG demo
The big anti-LNG demo will take place in Sassnitz on Saturday at 11:00 a.m. It starts at trainstation in Sassnitz. We go there together from Cliff-Camp. Feel free to bring any pink or turquoise fabric scraps or other things that you can use to add more color and fun to the demo. Maybe you still have something lying around with you that you no longer need. And as always, of course, glitter 😉 If it's glamorous and glittering, other colors are also welcome 💖🎊
The action
We have an action consensus again. Everyone who takes part in the day of action should have read it and stick to it.
During the action we organize ourselves into affinity groups. What this is and what affinity groups should keep in mind can be found in our new affinity group guide (only in German).
As the action consensus states, it may well be that we consciously violate rules during our protest. It is therefore important to deal with repression and legal consequences. For this purpose, there is a legal aid brochure, contact options and an EA number generator under "Legal matters".
If the information online isn't enough for you, you can get lots of information about the action at our mobi events. If there isn't one near you, you can also look at the mobilization presentation. We also share a lot on social media. So feel free to stay up to date there.
Awareness
There is an awareness concept for the camp and the day of action. Feel free to read through! For BIPoC we also wrote something about BIPoC-Awareness.
We also wrote a short corona concept, please read it.
Anti-racism
To prepare, please read our anti-racist brochure for activists. We also collected further information and materials last year, which you can view here. Please note that the contact options and offers on the site are no longer current.
Let's go!
We cannot yet predict how many people will find their way to Rügen. So be prepared that there may be more or fewer people than usual.
We look forward to welcoming each and every one of you, whether you are traveling alone or as a group!! 🙂