Accomodation in Hamburg ++ Infos and legal input on Anticolonial Attac
The registrations for the camp in Brunsbüttel are huge 🙂 If you are still thinking about whether to go to Brunsbüttel or Hamburg: go to Hamburg! The Anti-Colonial Attack has organised a bed exchange, information about the action will be available at Café Knallhart on Friday.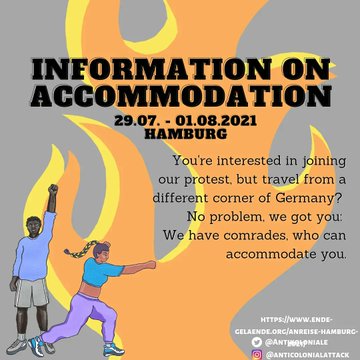 We are about sure, that the capacity of the camp in Brunsbüttel will be reached on Friday. So if you are still deciding whether go to Hamburg or Brunsbüttel – go to Hamburg :). There is a great accommodation organized. Sign up now(!) (sorry, german only) – if you need a place to sleep with stable comrades! On the page Journey to Hamburg you can find all further information and the links to the bed exchange.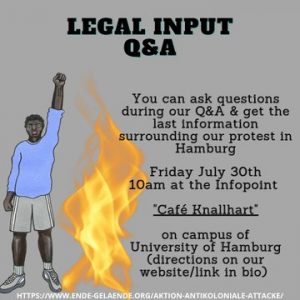 You still have sleeping places to offer? You can also find links on the journey page!
IMPORTANT: Friday there will be an input on legal issues & especially the possibility to ask questions about our action. See you there!
On Friday 30.7. at 10 a.m. you can get information at the info point at Cafe Knallhart (on the campus of the University of Hamburg)! (You can find directions here)
Here you can ask your questions & and get the last important information about our action