Newsletter #30 – Ende Gelände goes Europe and Hambi Bleibt!
This year spring is like an explosion. Not only nature is sprouting and blossoming, the climate justice movement is also thriving.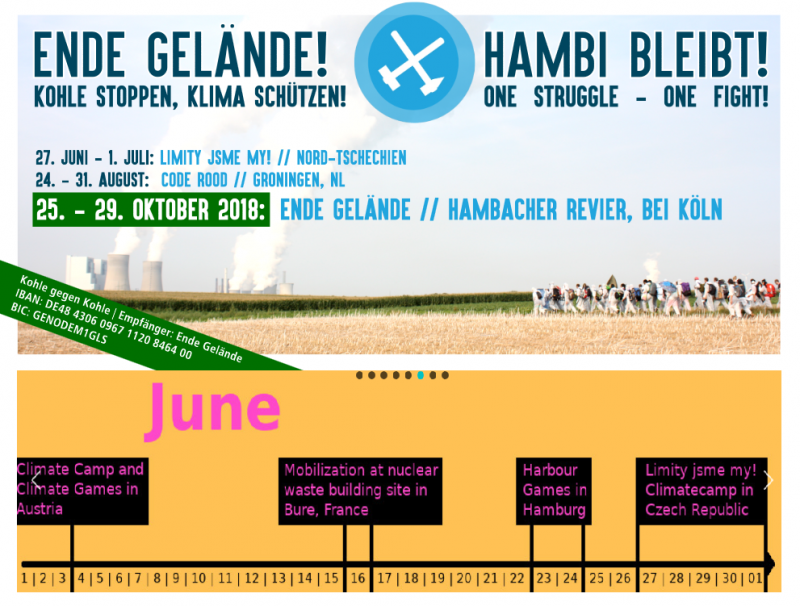 In April there were protests at the RWE Annual General Meeting, people celebrated at a festival in the Hambacher Forst and in Göttingen hundreds of people met at a regional climate group conference under the theme "taking roots". Ende Gelände is happy to be part of such a diverse movement!
At our last Ende Gelände meeting in Munich we took important decisions for this year: In October we will organise a big Ende Gelände action and we will do it where protest against coal is uniting many people – at the Hambacher Forst. With our campaign "Ende Gelände Goes Europe" we also show that we do not stop at national borders, but that we stop climate destruction everywhere. Hit the road with Ende Gelände to travel to our friends in the Czech Republic and the Netherlands to support them in their struggles.
So after a hot spring we will have an even hotter summer.
1. Mark your calender: next Ende Gelände action 25.-29.10.2018
2. Ende Gelände goes Europe
3. Climate (catastrophe) of the German government
4. Next Ende Gelände meeting
5. Looking for translators
6. Other dates to mark in our calenders
1. Mark your calender: next Ende Gelände action 25.-29.10.2018
In October RWE wants chain saws to roar loudly, turning up the heat even more and cut down the very final parts of the Hambacher Forsts. We won't put up with this – we will be there to save Hambi! At the end of October with a mass action of civil disobedience we will block RWE's coal infrastructure. We will literally protect the forest, show solidarity with those living in the forest and all those in the Rhineland who for many years have fought against the destruction of the forest.
Mark your calenders: 25.-29.10.2018! More information will follow soon!
2. Ende Gelände goes Europe!
Besides preparing our own action, we will mobilise two actions of collective civil disobedience in other European countries at the end of this year: from 27.06.-01.07.2018 in the Czech Republic and from 24-31.08.2018 in the Netherlands. Both locations are close to the German border, therefore it's easy to travel there. Just as climate change crosses borders, so will our protest.
Limity jsme my
Under the slogan "Limity jsme my" (We are the borders) the second Czech Climate Camp will take place from 27.06-01.07.2018. People in the Czech open-cast brown coal mining area near Most (close to Dresden) are defending themselves against the fact that the limits actually set for brown coal extraction are to be exceeded. The operating company ČEZ is largely owned by the Czech state and is also active in Germany and other European countries. As in 2017, local and international activists* will block open-cast brown coal mines in June in an action of civil disobedience and thus set an example against the destruction of our livelihoods and for climate justice.
Code Rood
In Groningen, the Netherlands, methane has been produced since the 1960s, from what was then the world's largest natural gas field. In the last years, earthquakes have been increasing in the region. The local population is largely left alone with the damage caused by the earthquakes – the operator (NAM – ExxonMobile and Shell) just collects the profits. Natural gas itself is a strong greenhouse gas and not the bridging technology to a sustainable future, as the operator likes to sell it. That is why "Code Rood" (Red Alert) is planning a Climate Camp with a diverse programme against gas production from 24-31.08.2018. On Tuesday, 28.08., which is a holiday in Groningen, critical gas infrastructure is to be blocked by the affected local population and activists* from all over Europe.
3. The (catastrophic) climate policy of the German Government
The coalition contract already gave us a bad feeling: Regarding the topic of climate protection, the new government is mainly producing hot air and shying away from definite measures. The self-imposed climate target of -40% reduction by 2020 shall now only be achieved 'as far as possible' – even though it is obvious that if the 1.5% target adopted in Paris is to be taken seriously, greenhouse gas emissions will have to fall much faster!
Instead, the urgently needed withdrawal from coal mining is being procrastinated. The government announced that a (still to be established) commission should discuss the decisions made about the timing and expiry of the coal phase-out by the end of this year. Nothing, or nothing positive, has happened since then. Environmental associations were vehemently rejected when they demanded the imposition of a moratorium on the construction of new coal-fired power stations and the designation of new opencast mines for the period of the Commission. And even the additional expansion of wind and solar energy, which was promised in the coalition agreement, is being called into question again.
We at Ende Gelände always knew: Coal exit is and remains handmade! More than ever before, it's important that we now show that we need to phase-out coal immediately. Everything else leads to the further destruction of the Hambach forest and many villages; and is the death sentence for many of the people directly affected by climate change worldwide. We will not wait for political decisions, but negotiate the climate ourselves in the mining territories!
4. The next Ende Gelände alliance meeting.
From 18.-20.05.2018, this year's third alliance meeting will take place in Berlin, where we have beautiful rooms with a view of the Spree. We will go ahead with the preparations for our mass action in October. Also, we want to focus on the political backgrounds of "Code Rood" and "Limity jsme my". In addition, we want to discuss the following questions:
What could our climate camp in October look like under the given circumstances?
How do we continue to support the resistance in the Hambach forest after our mass action?
We also want to look at our own structures:
Which individual and collective strategies for sustainable activism can we share? How do we create a good atmosphere for everyone in our plenums?
It's the opportunity. No matter if you've been with us from the beginning or if you haven't had much to do with Ende Gelände yet. If you would like to discuss these and other questions together, you're more than welcome! To make it easier for newcomers to 'get in', there will be an introduction and direct support from Buddies.
Please register here, so that the Organization-Crew can organize food and sleeping places.
As always, we look forward to seeing you!
5. Translators* wanted!
Ende Gelände has already worked across borders and languages before our campaign "Ende Gelände goes Europe". Announcements, packing lists, legal information, plenary protocols, this newsletter – all this is translated into several languages so that we can communicate without barriers. That's a lot of work! If we want to support our translator pool, please contact us at translation@ende-gelaende.org
6. Further dates for this summer
Rumours say that one could spend the whole summer at climate camps this year. And indeed: This year there are more activities of the climate justice movement in Europe than there have been for a long time. For all who like to travel, camp and workshop, there is an incomplete list of happenings below:
30. 5. – 3.6.: Climate Camp and Climate Games in Vienna, against the expansion of Vienna Airport
23.6 Harbour Games in Hamburg
28.6.-1.7.: Czech Climate Camp & action, most likely at a North Bohemian brown coal mining area (near Dresden)
18.7-22.7.: Climate Camp in Poland in a brown coal mining area, location to be announced
28.7. – 5.8.: Climate Camp and Degrowth Summer School in the Leipzig open-cast brown coal mining area
3-14 August: Swiss Climate Camp & Climate Games in Basel
13-19.8. Climate Camp in the Rhineland (will be smaller this year and without big action)
24-31 August: Climate camp and Code Rood mass action in the Groningen gas field, the Netherlands
Last but not least:
25-29 October: "Ende Gelände" campaign in the Hambach open-cast mining area, near the Hambach forest.
An interactive timeline is also available from our friends of Zucker Im Tank!