NEWSLETTER #34 – LET'S CELEBRATE AND FIGHT ON – STOP COAL NOW!
Let's maintain the insane energy/power we've been experiencing over the last few days and use it for a strong and motivated action at the end of October!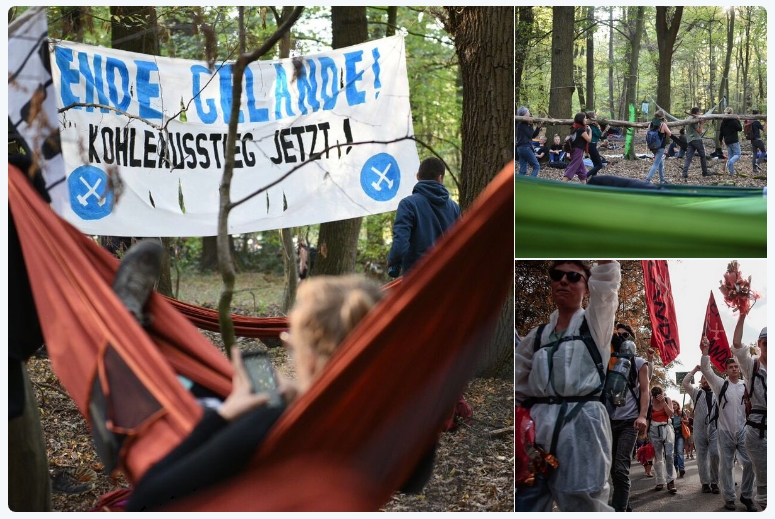 What a weekend! On Friday the Higher administrative court of Münster announced a temporary stop of the clearing in the Hambach Forest. Until the trial about the protected status of the forest has been decided, no further action may be taken. A bitter defeat for RWE! On Saturday, more than 50'000 people protested for the end of coal mining and the preservation of the forest. Several thousand people joined Ende Gelände and entered the forest. Whether young or old, whether forest squatters or newcomers – together we celebrated this victory for our movement and made clear: We won't let this forest be taken away from us!
And while the first platforms are again being pulled into the tree tops, it is now a matter of enforcing the immediate stop of coal mining. The anti-coal movement is stronger than ever before. We will not let the coal commission put us off for "some time later". Stopping coal mining stays manual labour! Be there when in two week's time we will shout again "Auf geht's, Ab geht's, Ende Gelände!". With thousands of people we will block coal infrastructure. For climate justice, for the immediate stop of coal mining and for the Hambi to stay forever!
1. WE WILL BE BACK: BIG ENDE GELÄNDE MASS ACTION (25 to 29 OCTOBER)
From 25 to 29 October 2018 the Ende Gelände alliance calls everyone again to travel to the Rhineland.
With thousands of people we will block coal infrastructure in the mining area: We will not stop working hard for an immediate stop of coal mining and for global climate justice! In the name of Hambi, we will stand up for a fairer world, far away from capitalism.
2. PREPARATION AND FINAL MOBILISATION
The end of October seems too far away and you would like to get involved before then? There are numerous possibilities. Organise information events, solidarization parties and training for the action (e.g. climbing practice) in our area. Prepare together for the action and spread the information. You can order stickers, leaflets and posters for your neighbourhood here: mobimaterial@ende-gelaende.org. For help with organising info-events, check out our homepage or contact veranstaltungen@ende-gelaende.org.
For all other questions please contact Mobi-AG. We're happy to support you!
You can find information for Ende Gelände events already happening here.
Shortly before the action when you're packing have a look again here.
For information on legal consequences of the action, you can find a legal booklet on the homepage.
Important for the participation in the Ende Gelände action is the compliance to the action consensus.
3. GETTING THERE
There will be a Ende Gelände special train. It will pick you up in Prag, Dresden, Leipzig, Berlin or Hanover and brings you to Cologne together with hundreds of other activists. Furthermore, there are busses which will also bring you to Cologne. You can find more information here.
If you have any questions please contact the Busmobi. For questions about the special train contact sonderzug@ende-gelaende.org.
There is no bus from your area, yet and the special train stops are too far away from you? Organise your own bus! You can find the guide to the bus organisation on the Ende Gelände homepage.
4. SUPPORT WANTED AT THE ENDE GELÄNDE ACTION FROM 26 to 29 OCTOER
Our working groups are working at full speed and in cities everywhere people are mobilising – but for the action to succeed there is still an urgent need for support. That's why below there are a number of "job offers". If you can imagine taking on one or more of them, please contact us here. Please write in your e-mail which job you would like to do and on which dates you could help. Tell us also if you would like to join the action or if you are available during the action.
More informations about "Jobs@EndeGelände"
We are looking forward to seeing you!
Picket supervisor
No Ende Gelände action takes place without pickets – and no picket without people taking over picket shifts! These registered meetings enable us to have safe places where we can rest, take care and reorientate ourselves. The shifts will last about 3h – 4h and will be taken over by at least 2 people.
Chair wo*man for meetings
If you feel like taking care of pickets, consider whether you could also imagine taking over the formal administration of the meeting. This means that you have to act with your clear name in contact with the regulatory agency and the police if necessary. For all interested people there is of course more detailed information and an introduction.
Driver
Whether people or material – before, during and after the action, a lot has to be transported from A to B. Drivers are always on the move as a tandem. If you can imagine taking on shifts as a driver, please also write about your driver's license class.
Material issuer
Thousands of white suits, dust masks, democracy protection foils – before the action the well-known End Gelände equipment must be distributed to the activists. This requires people to take care of the material distribution at the camp in shifts.
People to set up and dismantle the camp
We want to have a camp – and of course this has to be set up and dismantled. If you want to learn how to set up or dismantle big tents and compost toilets, you are at the right place! In order to have everything ready when the activists arrive, the set up works start on Sunday, 21 October and for the dismantling we plan until at least Wednesday, 1. November!
5. Always useful: donations
Even at the risk of repeating ourselves: Our actions would not be possible without all our loyal and new donors. We therefore look forward to your financial support, whether large or small!
Via our website or by bank transfer:
*Recipient: Ende Gelände*
*IBAN: DE48 4306 0967 1120 8464 00*
*BIC: GENODEM1GLS*
Let's maintain the insane energy/power we've been experiencing over the last few days and use it for a strong and motivated action at the end of October!
See you there!