Ende Gelände Antirep Soliparty
22. September 2018 at 19:00 Südkiez (U Samariter Str.) in Berlin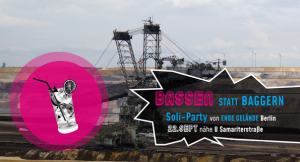 (mehr Infos zur location bei berlin@ende-gelaende.org)
*english version below*
Die Ende Gelände Massenaktion steht bevor – am 25.-27.10. werden viele tausende Menschen mit ihren Körpern den Hambacher Forst vor der Rodung beschützen. Jetzt droht RWE mit einer Räumung der Hambi Besetzung noch im September - und wir machen uns bereit, um sie zu verteidigen! Doch auch in den vergangenen Monaten haben Aktivist*innen in verschiedenen Regionen klare Zeichen gegen die europäische Klimapolitik und den Kohleabbau gesetzt: In Tschechien, im Leipziger Land, in den Niederlanden wurde erfolgreich fossile Infrastruktur blockiert. Die Repressionen von Justiz und Polizei sind gewaltsam, unangemessen und nicht legitimer, als die Gesetze, die sie vermeintlich schützen. Sie kosten uns Kraft und Geld. Doch wir werden uns gemeinsam den Repressionen stellen und nicht aufhören Widerstand zu leisten. Niemand wird alleingelassen und niemand soll auf den Kosten sitzen bleiben!
Heute Nacht bassen wir die Repression weg und feiern unsere vergangenen und bevorstehenden Aktionen. Wir feiern unsere wachsende Bewegung, stillstehende Bagger und unsere Genoss*innen im Hambi! Wir bringen den Boden unter unseren Füßen zum Beben und die Sterne über unseren Köpfen zum Funkeln.
Seid mit dabei und bringt eure Freund*innen mit!
Mehr Infos und Flyer bei unserem Blog
und auf unserer facebook seite
*Leitet die Einladung gerne weiter!*
***
Ende Gelaende antirepression soliparty
*22nd September at 7 p.m. at a location close to U Samariter Str.*
(more infos about the location under berlin@ende-gelaende.org)
The Ende Gelaende mass action is imminent - from 25-27 october, many thousands of people will protect the Hambacher forest from clearing with their bodies. Now RWE threatens to vacate the Hambi occupation in September - and we are getting ready to defend it! But also in recent months, activists in various regions have made clear signs against coal mining and the European climate policy: In the Czech Republic, close to Leipzig and in the Netherlands, fossil infrastructure has been successfully blocked. The judicial and police repressions are violent, inappropriate, and no more legitimate than the laws they allegedly protect. They cost us strength and money. But together we will face the repression and not stop resisting. No one is left alone and no one should stay at the expense!
During this night, we will bass away the repressions and celebrate our past and upcoming actions. We celebrate our growing movement, the "out of action" excavators and our comrades in Hambi! We will make the ground shake under our feet and the stars above our heads sparkle.
Come and bring your friends!
More infos and flyer at our Blog:)
and on our facebook page.
*Please forward this mail to your contacts!*